Hello, and welcome to American Tifo, a weekly newsletter for, and about, North American soccer supporters. Thank you for being here. If you like what you're reading, subscribe!
"Wait" is a pretty overrated word in 2020. Why wait, or pause or delay anything these days, if you can help it?
Members of Lavender Legion, LouCity Ladies and Rebellion 99 are not waiting.
Even though their NWSL clubs, Racing Louisville FC, and Angel City FC, won't launch until 2021 and 2022, respectively, they're using the time they've been given to build authentic communities and culture, so that when the spotlight does swing towards them, they'll be ready.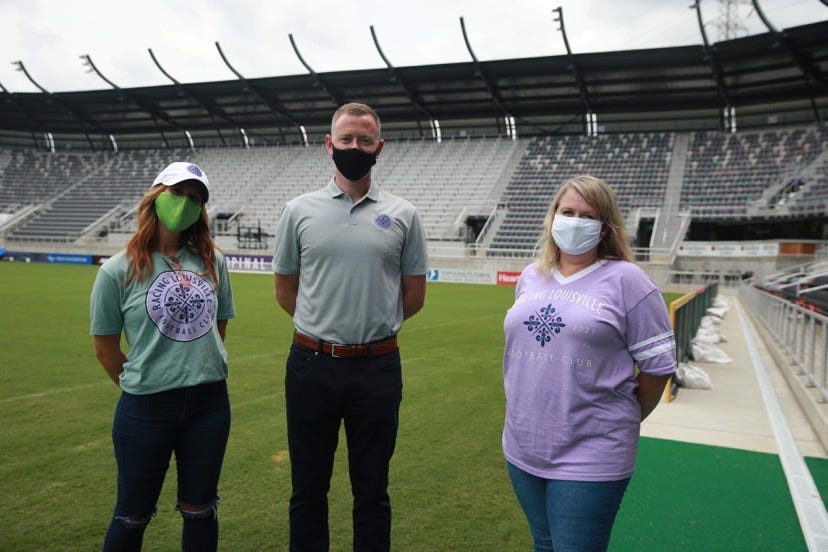 For the Lavender Legion, things started, as everything has in 2020, from a distance.
Once it was announced that an NWSL team was coming to Louisville in October 2019, Leigh Nieves was encouraged by a fellow fan to start a supporters group for the club. Though Nieves grew up loving soccer, and was a fervent fan of the USWNT and Louisville City, the city's USL Championship club, she wasn't as well-versed in supporter culture.
So in April, Nieves and a handful of interested individuals held think tank meetings outside, shouting ideas, thoughts and suggestions for what their supporter group could become.
"We just got a microphone and sat outside in this big area, all apart from each other," said Nieves, Lavender Legion's president. "We were just yelling to each other, 'What's your idea? What should we do?' So it was very organic and really awesome."
These 15-person meetings soon graduated to 50 person Zoom calls, and by August, interest was steadily building among both soccer and non-soccer fans.
"We try to be very open and inclusive," said Nieves. "I think we try, in our wording, to be very intentional of saying, 'We do not care if yesterday you became a fan of women's soccer. We want you here. We will help you.' To see people show so much interest has been really great."
They held online watch parties for NWSL Fall Series matches and have an active Facebook group, but Nieves and the rest of the group yearn for the day that they can gather in a bar and begin to really lay the groundwork for what Lavender Legion will become.
"We're hoping that as things start to open back up, we want to start having events and meeting spots that are going to be very supporter specific," she said. "We want people to be able to meet each other, and for this to be a very safe, open community. I know there are a lot of people who love soccer but none of their friends do. I want them to be able to have soccer friends. I want us all to come together and be able to join together in this common bond."
Racing's other supporters group, the LouCity Ladies, were created by devoted women supporters of Louisville City, who saw their personal lives whither in favor of Lou City match days.
"I used to have book club with my girlfriends, or we would go to the theater together," said Michele Wilkinson, president of the LouCity Ladies. "But soon it became, 'Oh I'm sorry, I can't it's a game night' or 'We're going to Memphis or St. Louis for a game.' So I started cancelling things with my friends. We started talking about that at the tailgates and realized that it was happening to all of us, because we had fallen in love with a team. We're here and we're supporting a team, but we're losing our support network. So that's how the LouCity Ladies started."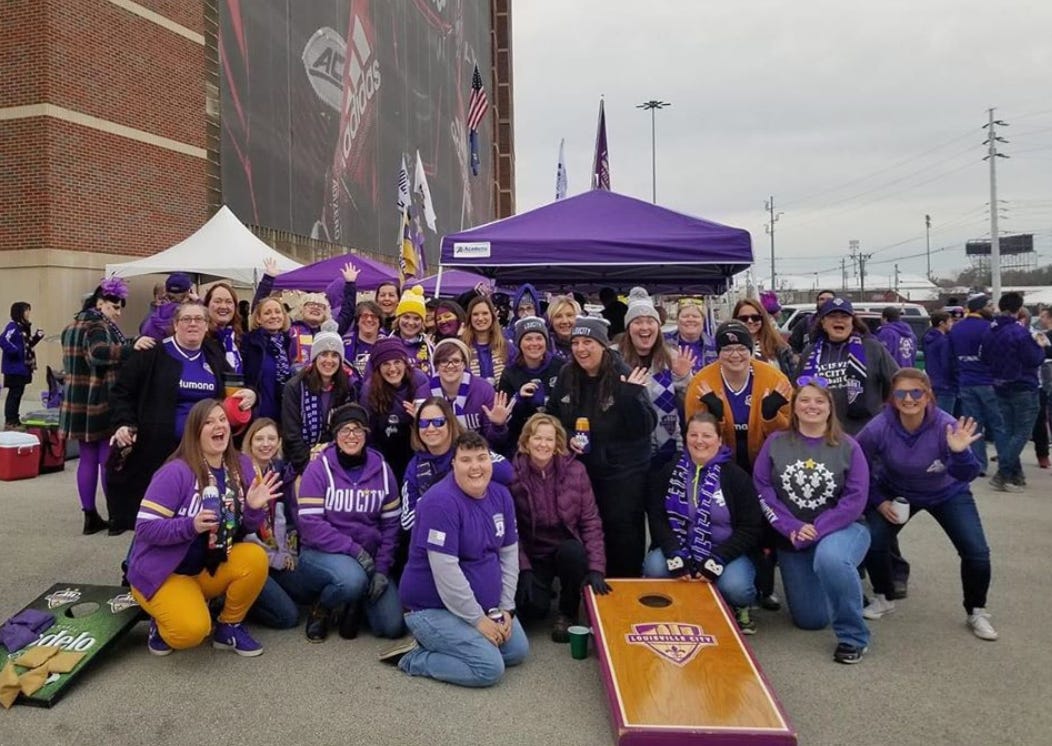 Photo courtesy of LouCity Ladies
The group began unofficially in 2018, and in 2019 found their identity as a community-based charity-heavy entity. They collaborated with The Coopers, Lou City's largest supporters group, and raised more than $30,000 that year. As the prospect of an NWSL team in Louisville became a reality, the LouCity Ladies made a choice to become an official SG for both Lou City and Racing.
"We said, 'You know what? Let's just do it. Let's be, be a supporters group for both of these teams. We have the people, we have the connections, there's representation for the young people around here. We can really make a difference.'"
The group has already started planning for how to split weekends next year, if Lou City and Racing match days fall close together, and are focused on transferring their experience from the past few years into awareness and support for Racing.
"It's a matter of moving into the space," said Wilkinson. "We're cementing the bonds that we are going to transfer over to both teams once the NWSL starts off. A lot of what we're doing right now to support Racing is establishing relationships and being ambassadors for our team to other communities."
Many of the members of LouCity Ladies already have deep roots within the city's soccer scene, which will only be strengthened with Racing.
"We have members who are grandparents and mothers of girls who play in youth leagues in Louisville. We have the people who didn't have that representation when they played," she said. "So, the ability to be a group who's going to connect our community with that team, so that these young ladies get to see people that look like them, it's amazing."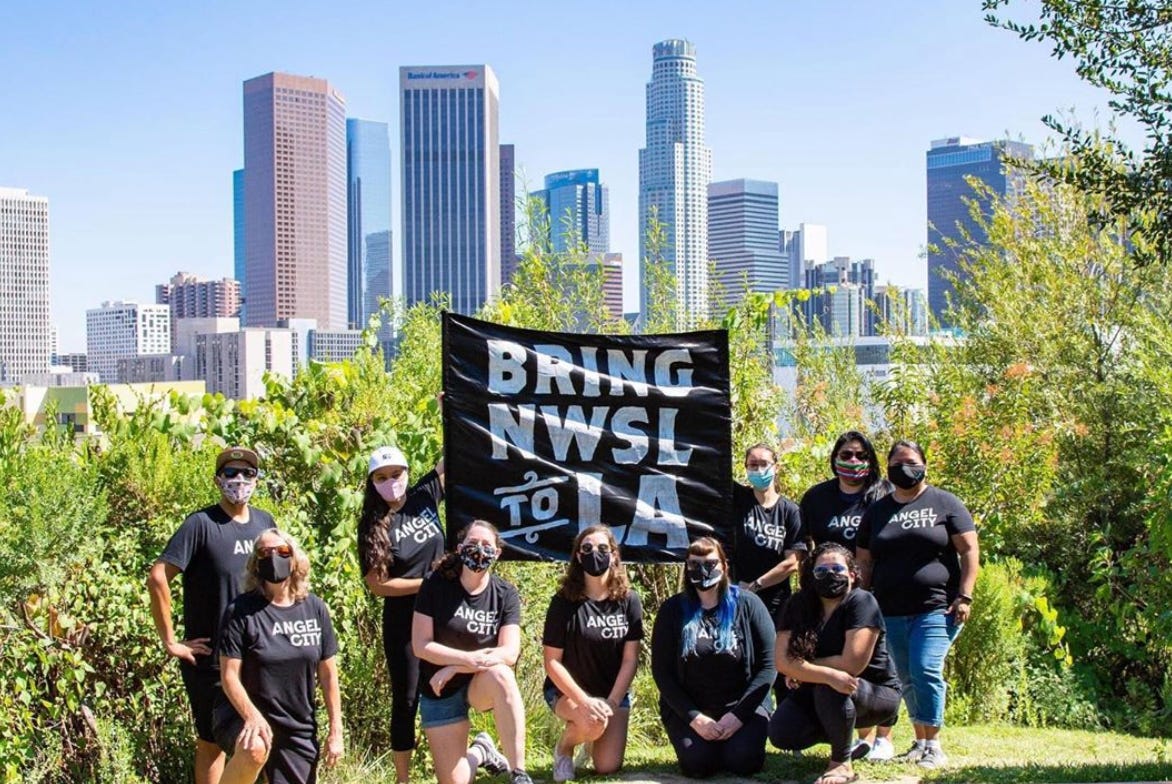 Photo courtesy of Rebellion 99
In Los Angeles, before any of the glitz or the flash surrounding Angel City FC, there was a movement.
The NWSL To LA movement was first started in June of last year, when devoted USWNT fan Lindsay Rojas was about to head to France with her husband for the Women's World Cup.
"Right before we went to the World Cup, I just had this moment of anger, where I was like, 'Why do we have to travel halfway across the world to watch badass women play? Why do we have to struggle to find these NWSL games online?" Rojas said. "So, that was when the idea to create the banners to bring NWSL to LA hit us, and we were like, 'Let's just do it.'"
They first introduced their message into LAFC's 3252, displaying "Bring NWSL To LA" banners and flags. Soon, the message was visible on LAFC's TV broadcasts, and photos were being shared around Soccer Twitter. They created social media accounts and started a digital petition on Change.org.
At the time, the club was still a dream. IF it were to happen, it wouldn't be for at least another 3 years, they thought. In the meantime, they continued to demonstrate that there was an eager market, while cultivating the community of women's soccer fans that were already there. At their first in-person meetup held earlier this year, almost 40 people attended.
"We told them what our vision was, and everybody was just so supportive and excited," Rojas said. "Every person there said they wanted the same thing, they wanted the women's game in an area that they could actually go and watch it and live it."
Then, like how all great modern love stories start, the @NWSL_LA Twitter account got a DM. It was from Julie Uhrman, asking for a meeting with Rojas and her husband. It was there, over Zoom, that Uhrman, one of the founders of Angel City, delivered the message. NWSL was coming to LA. Now, the movement had a new name, Rebellion 99.
"She basically told us that they had been stalking us on social media for a while," Rojas, who is now President of Rebellion 99, said. "She was like, 'Oh it's so great to finally talk to you, because we've been seeing what you're posting, and we haven't been able to reach out to you. But we wanted to let you know that there's a team, and we're crediting the movement that all of the supporters put together."
Just one week later, the names started dropping. Natalie Portman. Mia Hamm. Eva Longoria. Serena Williams. Abby Wambach.
Shortly after Angel City FC was announced, several other supporter groups were also formed, including Angel City Valkyries and Mosaic 1781.
Suddenly, Rojas' dream of having badass women playing soccer in her backyard was not only a reality, it came with an added bonus of several other badass owners across entertainment, tech and sports.
"We take a lot of pride in being the movement that generated the interest for people to say, 'Okay, we'll put our money into this.'" said Amy Acevedo, director of in-stadium operations for Rebellion 99.
Rebellion has already produced its own video content, hosted a book club, curated a weekly playlist on Spotify and created a digital tifo, demonstrating that the hunger for a team and a community was no joke. But 2022 is a longgg way away. Maintaining excitement for something that's still 18 months away is a challenge, especially in a place like L.A.
"Burnout is an incredibly real concern," said Acevedo. "We know that we've got a year and a half, but we also know that we only have a year and a half. That's where the consistency of content and watch parties comes in. That's why we did our digital tifo so early on. We can't do banners or tifos because of COVID, so how do we do something to honor what we're doing? Getting 64 people to be involved in that was a huge engagement of people from all different areas."
"We look at it as, there's definitely going to be some burnout, and we know there are going to be some drop off from people who just came for the names," she said. "And that's OK. If they show up again on Day One for the kickoff, I'm fine with that. I'm happy they're there."
While having such a strong ownership group is a dream come true, it doesn't change the original mission of Rebellion.
"If we didn't have the ownership group that we do have, if we weren't as fortunate, we'd still be doing the same exact thing," said Rojas. "We'd still be Rebellion. It's about raising awareness for what's right, and uplifting women and all of the marginalized communities within Los Angeles. Every time those players step on the pitch, they're stepping on it for a lot of the same reasons that our members are in Rebellion 99, so that they can push the status quo, so that we can show young girls and boys that anything is possible, and that everybody should have the freedom to dream and fight for their dreams."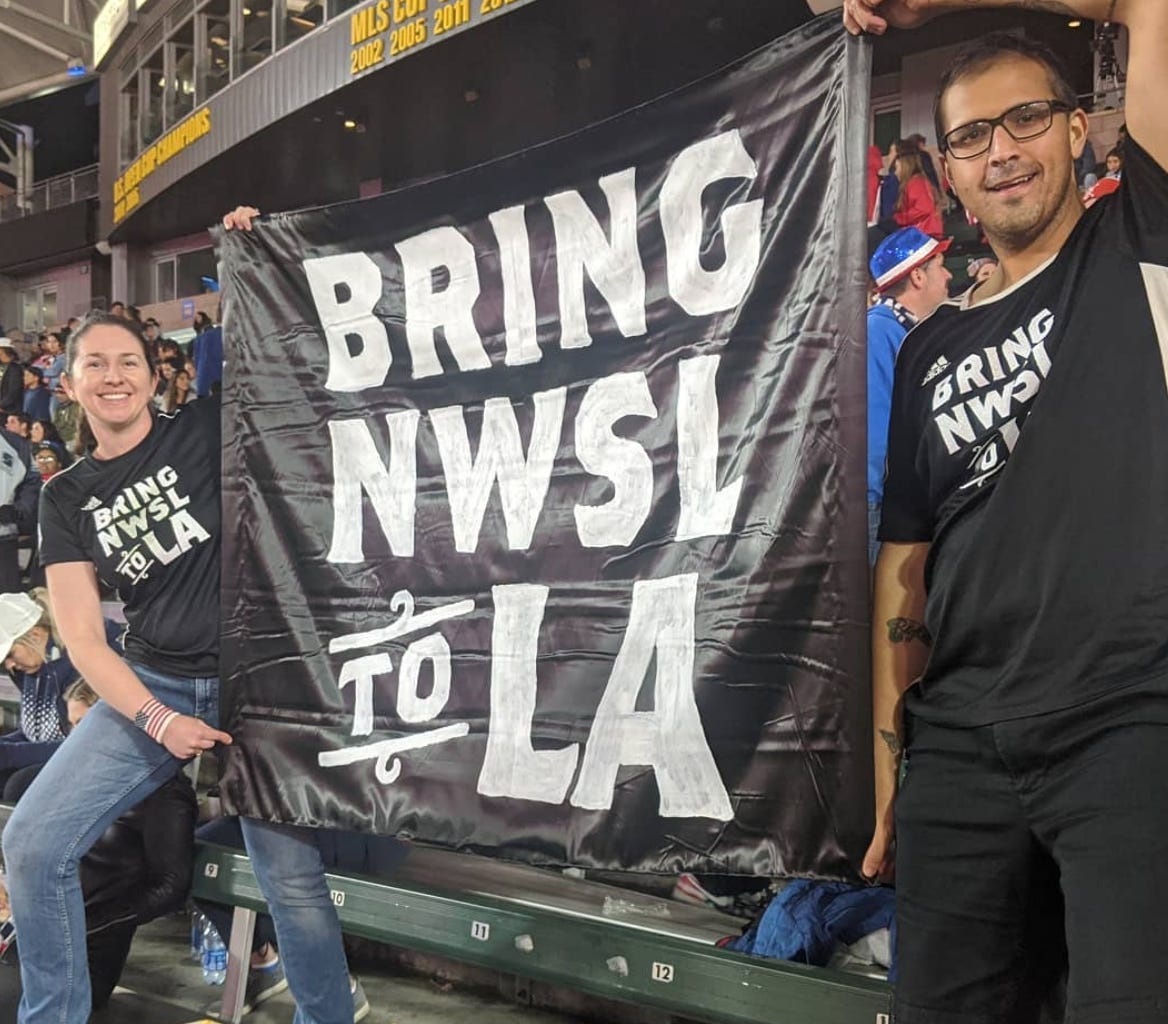 Photo courtesy of Rebellion 99
As Louisville and LA are the first expansion teams to enter the NWSL since 2018, these SGs enter a very different world from the one some of their fellow NWSL supporters groups entered.
The NWSL has taken several huge strides in 2020, including bringing in several new sponsors, and a new television deal that increased its TV audience by 500%. This growth not only is a boost of confidence for these newer groups, but allows them to push even more to become true, authentic representations of their cities, knowing that the world is watching.
"It's cool because the hype has extended beyond just a "niche" fan base," said Nieves. "The league is becoming more solid and casual fans are beginning to realize this. It makes it even more special that we are in a town that has truly embraced soccer, so that way we are being given a platform to showcase a world class team in a world class stadium with a world class fan base."
"I think it's really meaningful that we're joining the NWSL at this stage in its existence and growth because I think the world is becoming more aware of gender equality, pay equality, racial equality, LGBTQ+ equality," said Rojas. "The enhanced awareness around these topics by the world and the league ensures the work Rebellion 99 does now and into the future will continue to push the needle in a positive direction when it comes to equality for all. This allows us to support these amazing footballers in the ways they should always be supported."
As all three groups inch closer and closer to their first matches, and they continue to define themselves in the possibilities that lie ahead, one thing remains true. They can't wait.
"I wouldn't be surprised if we have 50 people with countdown calendars on their computers right now," said Acevedo. " We didn't know that this was going to happen 4 months ago. We thought we were committing to something three years early, and now we've got it, and it's only a year and a half away."
"We don't ever stop thinking about it." said Wilkinson. "Every conversation leads there. We're already talking about, 'What do we do for our home opener? Do we do a theme, do we do this?' It's always there."