How The Flock is Building Supporter Culture in Madison
Find your people
Hello, and welcome to American Tifo, a weekly newsletter for, and about, North American soccer supporters.  Thank you for being here. If you like what we're doing here, subscribe! Share with your friends!
This is the first in a recurring series profiling SG leaders around North America. First up, Andrew Schmidt, president of Forward Madison SG, The Flock.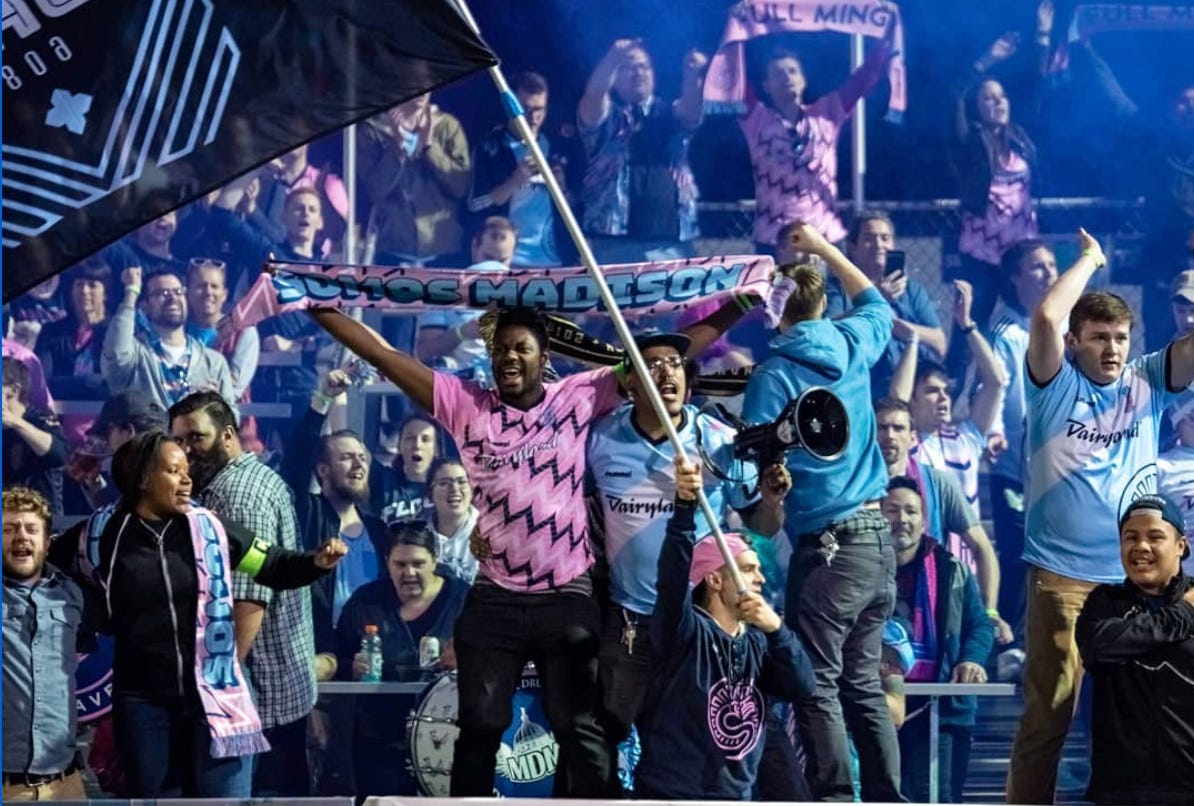 Photo courtesy of The Flock
Andrew Schmidt was standing outside of the Arsenal Football Supporters Club in North London in October 2018, telling an older woman about the soon-to-be-launched soccer club in his hometown of Madison, Wisconsin. As an already-active member of the Madison soccer scene, he thought he had a good handle on what to expect. But the woman, Peggy Goulding, who had been involved with the AFSC since 1969 set him straight.
"You love this [Arsenal]," Goulding told Schmidt. "But you're going to love that more."
"She told me it would probably take up a lot of my emotional bandwidth but she also said, 'I've been doing this for decades and I love it and I wouldn't have lived my life any other way.'" Schmidt said. 
Since that day in October 2018, Schmidt has helped make Forward Madison's Independent Supporters Association, The Flock, one of the country's most innovative supporters groups, based on a philosophy of inclusion and community engagement. 
"One of the things I've found through all of this, is just that, I don't think I've had any constant in my life outside of the people I've met through being a fan of soccer," Schmidt, who is the Flock's co-founder and current president, said. "Whether it's through Arsenal stuff or Forward Madison stuff, which is definitely taking up, like Peggy said, a lot of bandwidth. But it's been great. I feel like it's kind of the place I was needing to find for a while, and I was glad I finally did." 
Supporting, like anything worthwhile, is both an art and a craft. When it's done right, it's a perfect balance of matchday magic and a solid underlying organizational structure.
When it was announced that a new, professional soccer team would debut in Madison in 2019, a supporters group soon followed, with Schmidt involved from the early stages. He knew that a successful SG couldn't be built on pageantry alone, and needed a strong, organized foundation to act as the bedrock. This would help attract people interested in participating in something substantial, especially in Madison, which is not a naturally fervent soccer city, and is too small to rely on waves of casual fans.
"People generally gravitate towards things that are well-organized," Schmidt said. "I just knew we would need something that very clearly had some structure around it, so that people could feel that they could graft in easily, without there being too much of a hierarchy, and have clearly defined needs where we needed people to step into."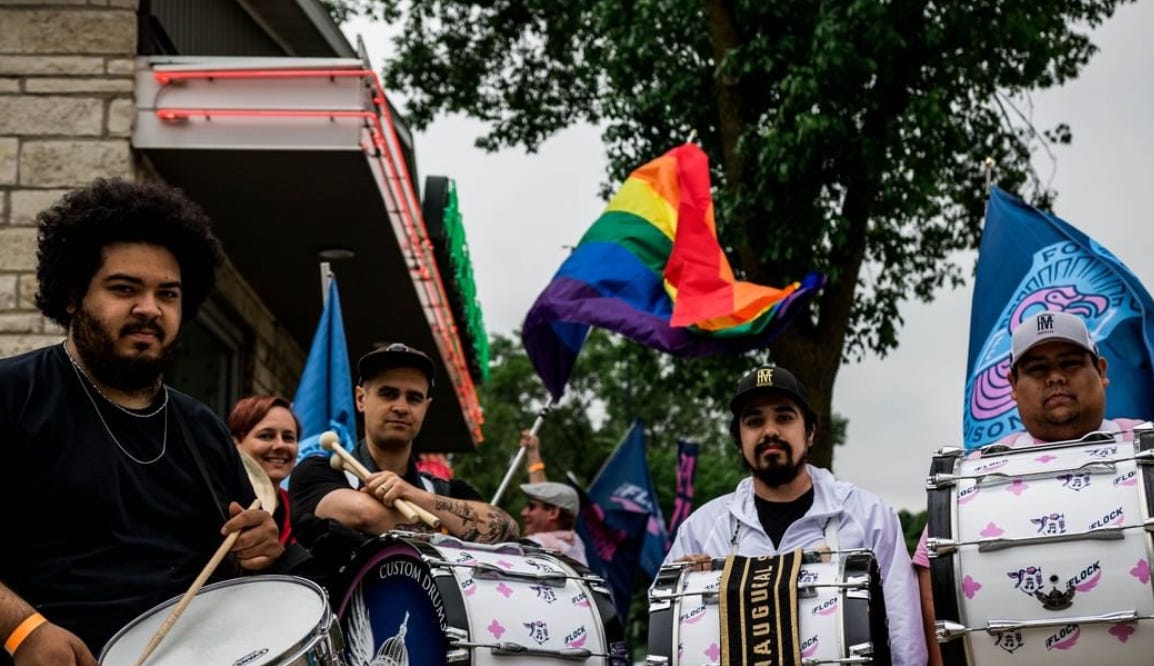 Photo courtesy of The Flock
Schmidt and his fellow founders ensured that the Flock would have their act together from the start. They registered as a a 501(c)3 nonprofit, allowing all donations to be tax write offs. They defined themselves as an Independent Supporters Association, which left the door open for smaller SGs to form under the wider Flock umbrella. They established community outreach as a keystone of their identity, and dove into merch sales, which were successful enough to allow the group to go into 2020 on positive financial footing. 
This stability, along with the Flock's inclusive ethos, drew fans in, and Forward Madison led USL League One in attendance in 2019. Perhaps more importantly, several other individuals felt empowered to launch their own supporters groups including the Mingo Ladies, La Barra 608, Featherstone Flamingos, and The Union. 
"We should allow these smaller groups to form and help them figure out what their structure looks like, because that's how you spread culture, and help people find their people when they show up to a match," Schmidt said. "I don't know how you build a club culture without making it so people can find their people and do it in a way that they're able to express themselves as they want to."
"I was talking to Kyle Carr, one of the founders of Featherstone Flamingos the other day about this," Schmidt said. "If somebody sees Kyle up on the capo stand at a game, and they're African American or they're from the Caribbean, they're going to see somebody that looks like him, doing this stuff, they're going to feel like they belong here and that they can do that too."
Finding your people within the soccer world has a personal connection for Schmidt. 
He grew up playing the game, but first got hooked as a supporter during the 2002 World Cup. That entry point soon led to an obsession with Arsenal, during the days of Dennis Bergkamp and Thierry Henry. 
Schmidt and his friends soon established an Arsenal Supporters Club in Madison, watching early morning matches first in his living room, then at a local Irish pub willing to open early for the group. 
But it wasn't until a trip to North London where Schmidt saw the true impact supporters could have on a local level. Schmidt visited the Arsenal Football Supporters Club, just a few minutes walk from the Emirates, and still all locally run by North Londoners. There, he met Goulding, AFSC Chairperson, whom Schmidt instantly connected with.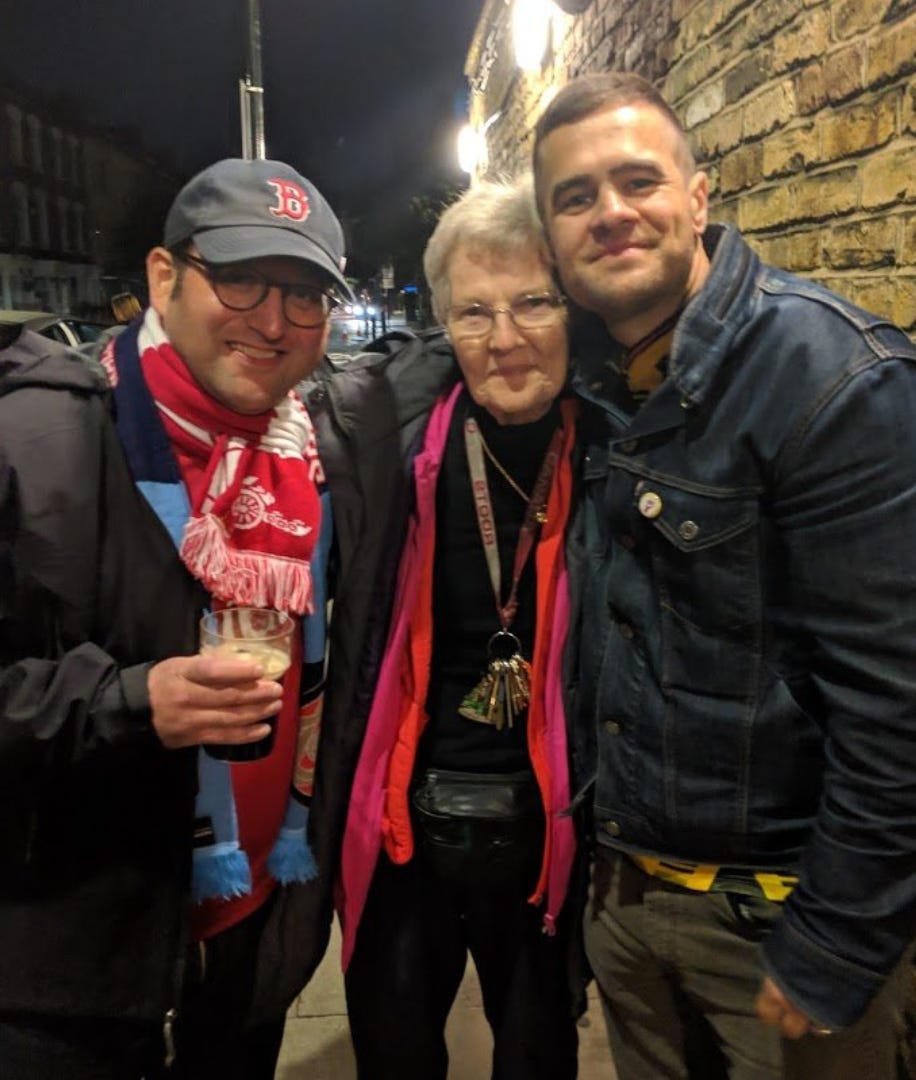 Schmidt with Goulding (Photo courtesy of Andrew Schmidt)
Schmidt returned to London several times and it was during that October visit that Goulding encouraged Schmidt to throw himself into the Flock and Forward Madison. 
"She just told me, if I'm going to be all in on this, to really be all in on this, and do everything I could to help the club succeed. It was cool having her be like, 'You need to make the most of it and enjoy it.' Coming back from that and helping get this off the ground on the supporters side of things, I think, was a nice push in the right direction from somebody that's been doing it for a long time."
Schmidt has big plans for the growth of the club, including boosting the numbers of their traveling support, encouraging more creatives to become involved with the Flock, and turning Forward Madison matches into a Saturday night staple. 
"I really want to see our attendance grow, and have it be that, if you weren't there on a Saturday night for a game in Madison and you were in town, you messed up," he said.
Beyond that, Schmidt hopes that Forward Madison and the Flock can become for others what Arsenal is for him, a way to find your people, whether that's down the street or halfway around the world. 
"I want it to be a destination for people that somehow find this club from elsewhere in the country or elsewhere in the world," he said. "When they're here, even if the club isn't playing, they can stop into a bar or a restaurant where the stadium is and for them to feel like this is home. Because I felt like I had that and I still have that whenever I visit North London. I see my friends and we visit the usual haunts. I remember the first couple of times that I went and it was like a holy pilgrimage for me, and I want it to be like that with people visiting here."