How To Have An Inaugural Season When Your Inaugural Season Is 2020
Everyone's just trying to figure it out
Hello, and welcome to the first edition of American Tifo, a weekly newsletter for, and about, North American supporters. 
I'm Maura Gladys, your capo on this journey. For more information about me or American Tifo, check out this introductory post. And please, email me!! mauragladysmedia@gmail.com
Tell me about your SG, the cool stuff you're doing, the people that make your organization run day-to-day, everything. 
And subscribe! Tell your friends! Your fellow supporters! Anyone who might enjoy this! 
We start with a story about supporters whose inaugural season was thwarted by Covid-19, the adjustments they've made, and the hope they've found in disappointment. 
Thank you for being here.
__________________________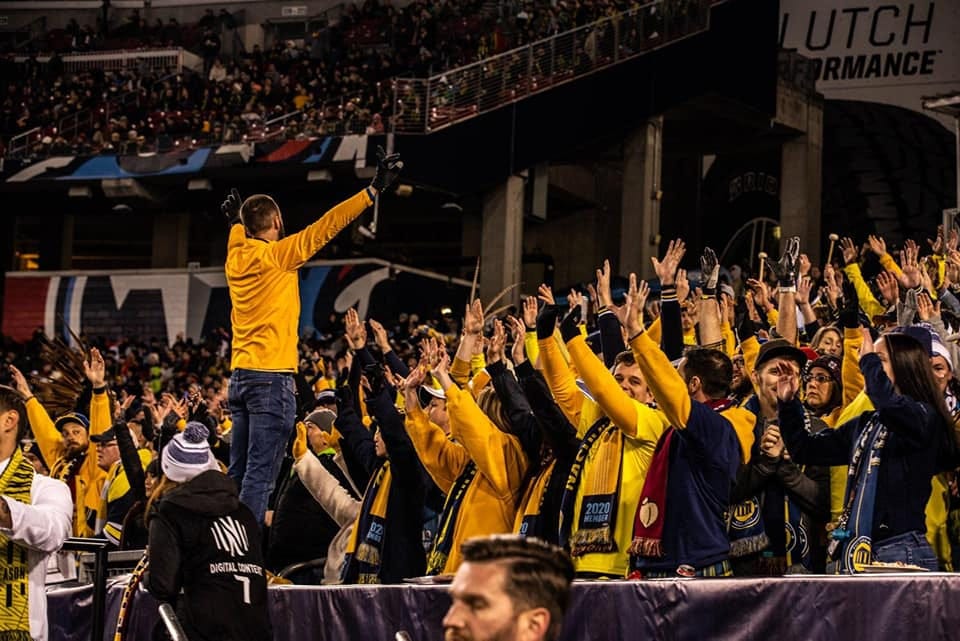 (Photo courtesy of The Backline)
The moment comes, propped up on adrenaline and dreams fulfilled. The hard work and the long nights, painting tifos, rehearsing chants. The moments of preparation whir by like a film strip, all fuzzy edges and lost hours, until it snaps into place for this frame, this moment. The inaugural home match. Your club walks out for the first time ever, in your stadium, in your city, the moment brimming with joy, passion and noise. 
But for some, this moment never comes. At least not the way it should.
Several clubs who were scheduled to play their inaugural season in 2020 have had their plans derailed or delayed due to the global Covid-19 pandemic, throwing supporters unimaginable curveballs, just as they were preparing for the first season in club history. 
"It was definitely heartbreaking," said Sebastian Moraga, co-founder of Vice City 1896, an Inter Miami supporters group. 
For many Inter Miami supporters, this season hasn't been a few months in the making, it's been almost two decades. 
Miami was home to Major League Soccer's Miami Fusion from 1998 to 2002, before the league trimmed down from 12 teams to 10, causing the Fusion to fold, but leaving behind a significant fan base. Since then, progress has come in spurts and starts, from the announcement that David Beckham had exercised his ownership option in 2014 to Don Garber's official confirmation that Miami would become an MLS franchise in 2018. Now the diehards, the ones that had stuck around, had a new date to work towards: 2020. 
As the club went from rumors to a reality, three supporters groups were founded, Vice City 1896, The Siege, and the Southern Legion, and by early 2020, all three groups were gearing up for a big year. There were the test runs over to Tampa for pre-season games in February, and a tantalizing first taste of action with an away day to Los Angeles on March 1st. 
"We went to Tampa to watch two pre-season games, and we were like, 'Ok, this is starting to become real," said Moraga. "Two weeks later, we went to Los Angeles, for [Inter's] first game ever. It was the most incredible high, everyone to this day talks about it."
As March 14th, the date of Miami's inaugural home match rapidly approached, Covid-19 cases around the country rose. But Miami supporters pushed through with plans for the day. 
"We were gearing up for the first game at home against the LA Galaxy," said Max Ramos, president of The Siege. "We had gotten our home bar ready, we had gotten everything ready to go. It was going to be this all day festival, celebrating our city, our team. It was going to be an amazing moment." 
Then, just two days before that match, on March 12th, Major League Soccer announced an immediate suspension of all play for at least 30 days.
Just like that it was gone, the match, the anticipation, the moment. Swept away, along with the rest of the daily life and routines that had framed our days. 
"That was soul-crushing," said Ramos. "The way to explain the disappointment, especially because of the fact that our club had taken so long to get there, to be born, all of the things we had dealt with...The fact that a global pandemic shut us down, it was like, 'We must be cursed.'"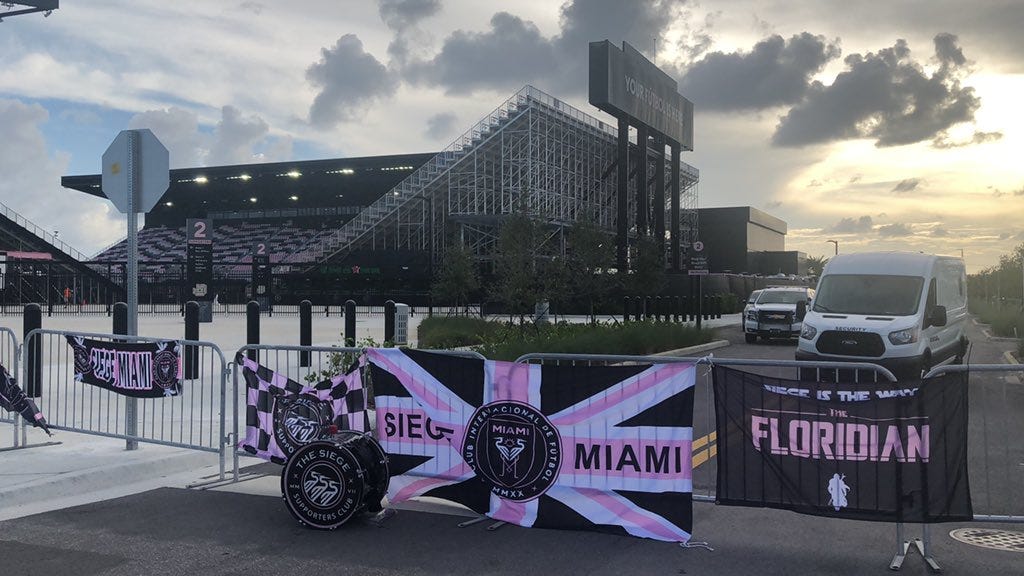 (Photo courtesy of The Siege)
A period of uncertainty and confusion followed. 
"For the longest time, we had no clue what was going to be next. We didn't know if there was going to be a season at all, if we were going to see our team even play in 2020," said Ramos.
But on June 10th, Major League Soccer announced the MLS Is Back tournament, which offered the coveted chance to see their club play, and an opportunity to reconnect over soccer. 
"During quarantine, we'd have our group chat, we'd have millions of messages a day," Moraga said. "For the MLS Is Back tournament, things were slowly starting to loosen up, so we would have small groups meet up, groups of 4 or 5, and we'd have 20 different groups and we'd FaceTime each other, Zoom call each other, all while watching the game."
Ramos, Moraga and their fellow supporters have been taking their Ws where they can, finding small opportunities to celebrate and support, including a trip to Orlando last weekend for the Orlando City vs. Inter Miami match. Differing Covid-19 restrictions in Orlando's Orange County allowed fans in the stands, and Inter fans took full advantage, snapping up tickets and planning the trip in a matter of hours.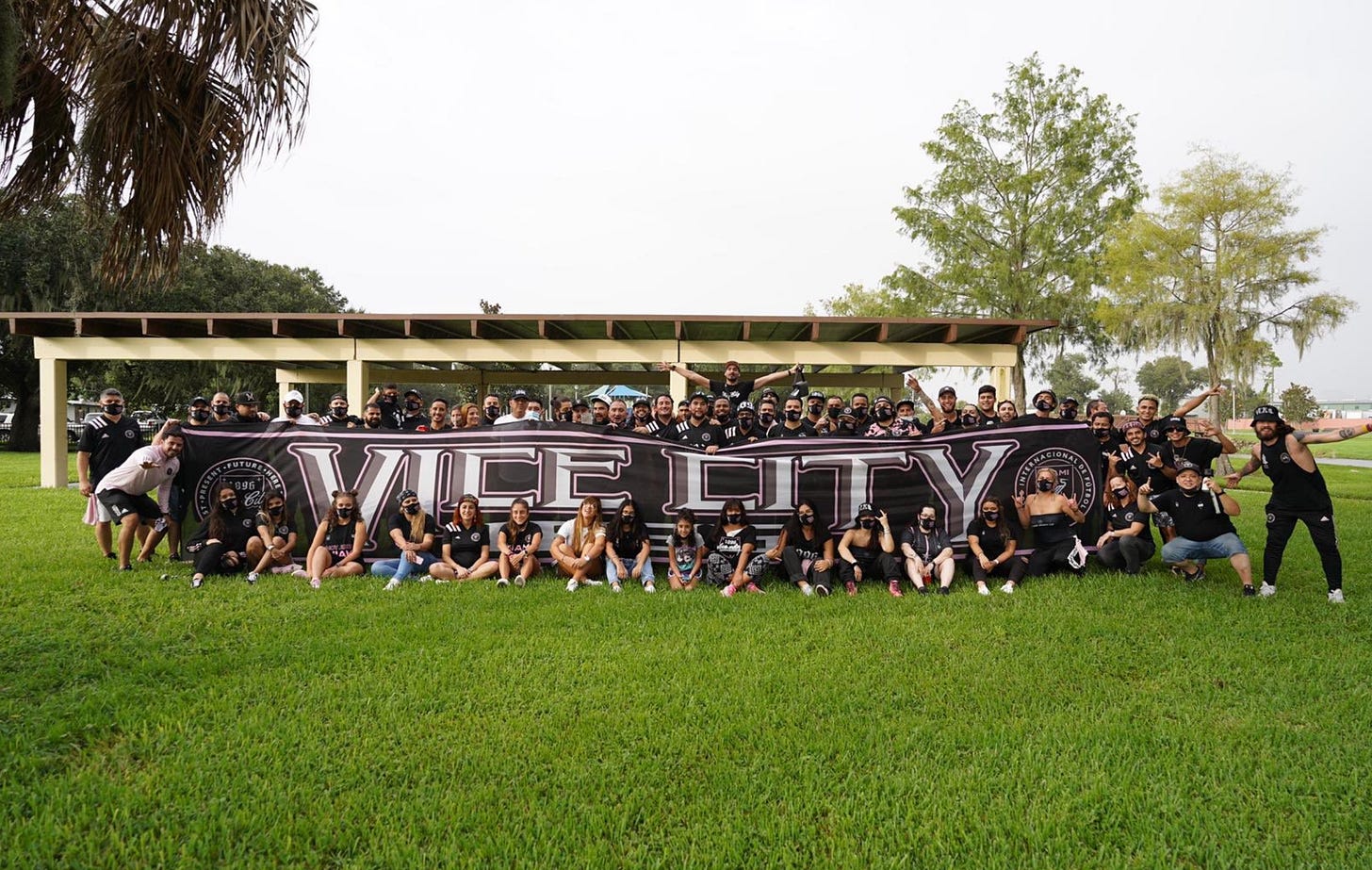 (Photo courtesy of Vice City 1896)
Inter lost 2-1, but their fans turned out in full force, a bright spot in a season. 
"This trip has come at the perfect time," Ramos said. "It's exactly what we wanted to do for this club, these away days. Otherwise, a lot of it now is just maintaining the course of where everything is." 
__________________
But is it worse if you actually get to see it? If you get a brief, fleeting glimpse of your future, as Nashville SC supporters did, only to have it put back up on the shelf? 
While this entire pandemic has been a constant series of 1-2 punches for the entire nation, Nashville has endured a unique set of blows. On February 29th, 2020, Nashville SC held their inaugural home match, a 2-1 loss to Atlanta United. Despite the result, the night was a raucous success, with 59,000 rowdy fans in attendance, a goal from Walker Zimmerman and glitzy Music City touches that foreshadowed golden days ahead.
Two days later, on March 2nd, tornadoes ripped across Tennessee, killing 25 and leaving parts of Nashville devastated. Nashville SC traveled to Portland later that week, losing 1-0 on March 8th. The next time that Nashville would take the field would be August 12th. 
"It seems like a decade ago that a tornado tore through Nashville," said Newton Dominey, president of The Roadies, one of several Nashville SC supporters groups. "That felt galvanizing. Then with the pandemic. There's so much other stuff that sucks worse than this. But this sucks. It seems trivial, to say that I cried about missing some of the things that we should have been able to do this year, but that's the case, that's the reality. It's been really hard." 
Soccer support in Nashville dates back to 2013, when Nashville FC, the first supporter-owned soccer club in the United States, was founded, with several members of the Roadies also acting as owners. Since then, the supporter base has grown, and now encompasses a total of 6 groups, operating under the umbrella of the Backline Supporters Collective. 
While the Collective, and each individual SG, has used the downtime to develop several new ideas, there's only so much you can do without the games, especially for a supporters group on a new stage. Those reps are vital. 
"In terms of stuff that we can really put wheels under, so much of that revolves around matchday experience, tailgating, being in the stands," said Dominey. "If this had happened 3 years from now and we'd all been doing stuff together, it would have been like, 'Oh yeah, we can do this, we can do this.' But we're still kind of figuring it out, and it's just been a big gap in how we can interact with each other." 
Although MLS matches have now resumed, supporters are not allowed to attend in-person at Nissan Stadium, but just the return of the club has been a boost. 
"Now that we're at least playing, there's excitement," said Dominey. "This common bond that all of us have has stirred us up, woken us up a little bit. In terms of things to really rally around, we're a soccer supporters group, so having those events makes it feel at least a little bit normal."
The Roadies' giant slack group remains active though, especially on matchdays, a testament to the tightness of the group. 
"Seeing that people are still talking online, hanging out there. Just that this group has turned into a legitimate community, is great," said Dominey. "There's room for all of us to get through this together. That's been encouraging. That even though it's different, there's still connection."
___________
For USL One side Union Omaha supporters, a delayed start to their season meant more time to engage in the community, continue to build their fan base, and dream of what would eventually be a damn near perfect home opener. 
The club was founded in 2019, with a supporters group, Omaha Parliament, following shortly after, and things were off to a promising start at the end of 2019 and into 2020. 
"We really got ramped up last fall, planning things, coming up with the scarf designs, the fun stuff," said Omaha Parliament president Ryan LeGrande. "In February, they had a friendly where they played the Real Monarchs in Utah. We did a watch party and we ended up having 200 people show up to watch a Youtube stream with no announcers. So we were pretty excited. We thought, 'We've got a good thing going on here.'"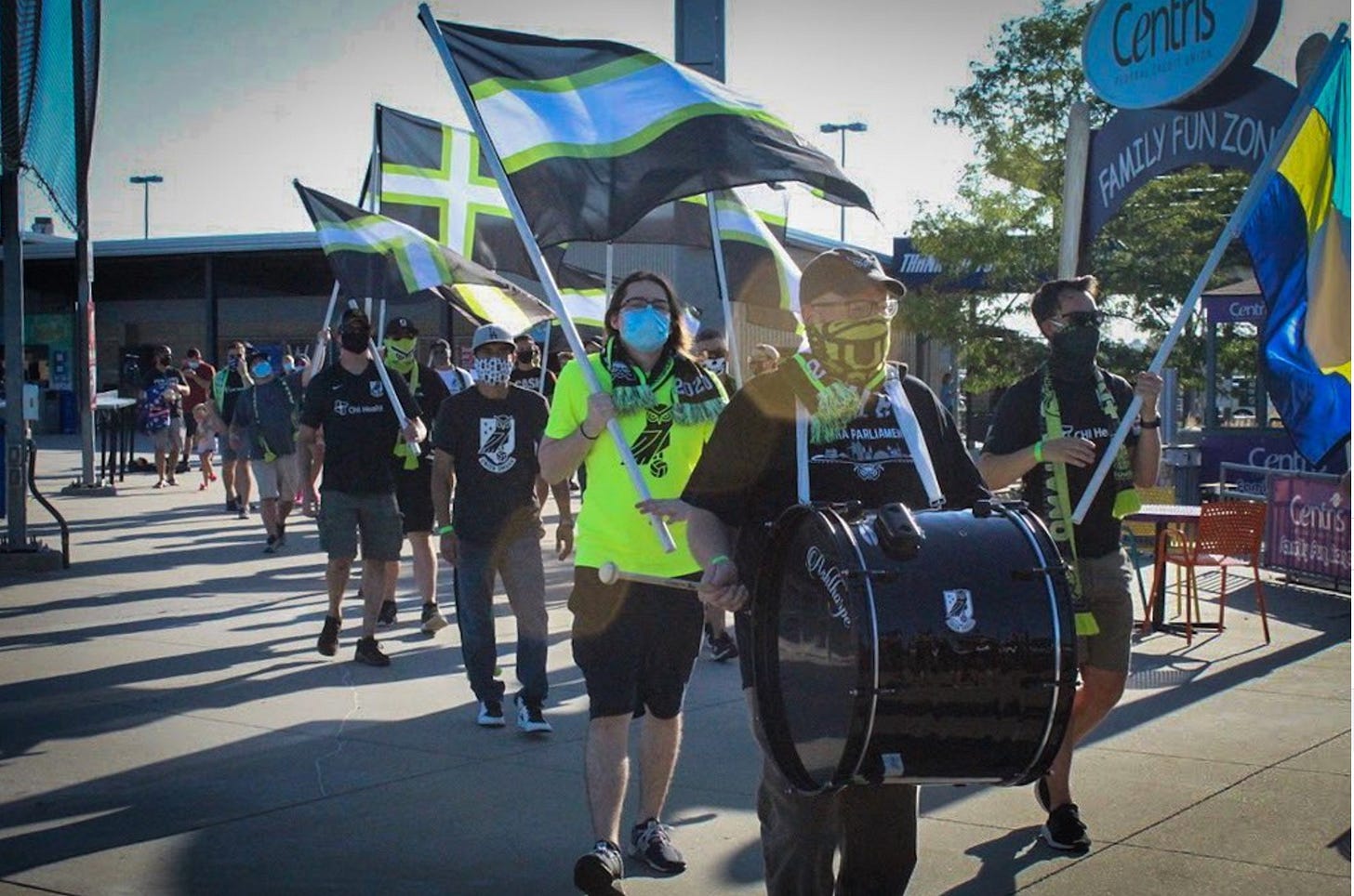 Photo courtesy of Olivia Riehle
But on March 12th, USL announced a 30-day delay to the start of the USL One season, which was scheduled to start on March 27th. 
"Covid kind of derailed a lot of things, slowed a lot of people down," LeGrande said.
As it became apparent that if play were to resume, it would not be in the spring, Parliament focused their attention towards helping out the community. They partnered with a local brewery to donate meals to local health care workers to coincide with National Nurses Week, donating over 100 meals.  
Then in late June, it was announced that USL One would return to play, with a limited amount of fans in attendance, and a new date was circled on the calendar, August 1st, against defending champs North Texas. 
After a thunderstorm delay, Union Omaha stunned North Texas 1-0, in front of the Parliament, in a rainy, sopping, euphoric mess. 
"That night was the number one day of 2020 for us," LeGrande said. "It was the storybook thing, you get a late winner. That place just erupted." 
With four more home matches left, Parliament is continuing to improve their gameday presence while navigating safety and social distancing precautions, and cherishing each opportunity they get in 2020. 
"We want to keep going and be as good as we can be, and hopefully next have learned from this and be as good as we can be next year," LeGrande said. "It's going to go down as one of the stories that people tell, that first season."
___________
The scars of a lost season still remain. When Ramos drives to Miami's stadium, he can see the empty food and drink kiosks, the empty bleachers, glittering in the Florida sun, waiting to welcome cheering fans. 
"You think to yourself, wow, this is amazing. But the fact that you can't just enjoy it, in what is is supposed to be, really really sucks. But you just go from there. You can't do much else than what you can control, and you just keep on trucking."
In 2020, when an hour feels like a month, it's difficult to NOT think about those glorious future moments, when things go back to normal, even though it may still feel too far in the distance. 
"Next season feels so far away," Ramos said. "It really isn't, month-wise. We're about 6 months away from the kickoff of the 2021 season, if everything works out. But for us you might as well say it's a decade from now."  
But hiding in the background is the moment. THE Moment. They one they've been waiting for for months, years. We still don't know when it will come, but when it does, it will mean more, and it will be perfect.
"We've had people that were waiting more than 20 years, since the Fusion fell apart, and they're like, 'Hey, what's a couple months? What's another year, if that's what it's gonna be'" said Moraga.
"We all can't wait," said Dominey. "I may not go back to games until somebody tells me I can hug my friends. But when we do, it's gonna be epic. We'll be doing it right."