How Women Are Changing Supporter Culture in North America
Hello, and welcome to the second edition of American Tifo, a weekly newsletter for, and about, North American supporters.  Thank you for being here.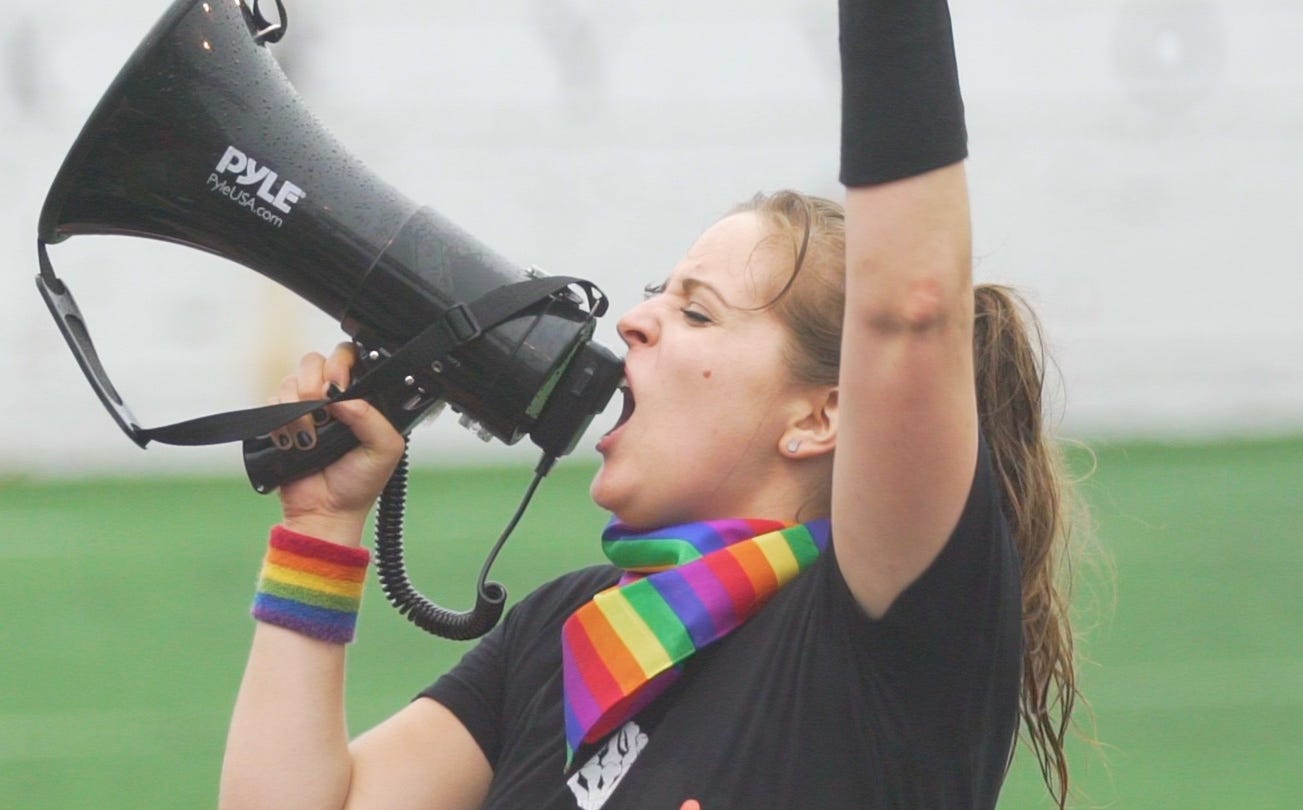 On June 23rd, 2018, in the North End of the Banc of California Stadium, women led the entirety of the 3252, LAFC's collective supporters section. Pulsating with energy, they jumped, chanted, celebrated. Queens on the capo stands. It was an empowering, uplifting scene. It was also a scene that doesn't happen enough. 
But more and more women are discovering their passion for supporter culture, and are creating their own places at the table of American soccer supporter leadership. 
"It's not perfect, it needs to be so much better," said Jackie Carline, the lead capo of Detroit City FC supporters group, Northern Guard Supporters. "But I think women are stepping up and stepping in now more than ever before, and it's starting to show the ripple effect of what happens when you let women lead."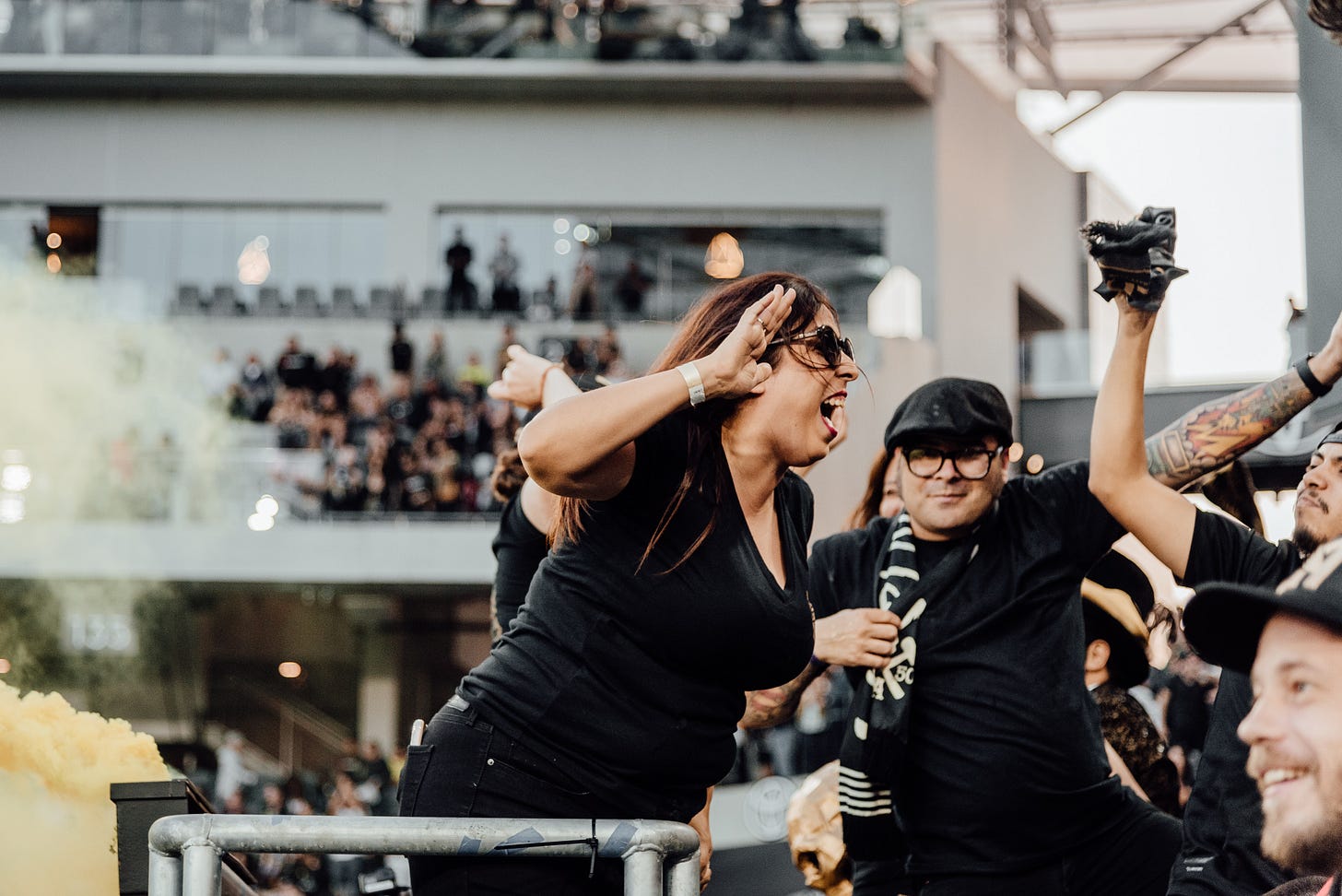 Photo courtesy of Mayra Stevenson
That night in Los Angeles was LAFC's Women in Sport Night, which was part of LAFC Women's Week, an initiative aimed to honor the women involved with LAFC at all levels. A night like this may not have been able to happen anywhere other than North America. 
"I think that we have something really special over here, in the idea that we seem to be a more progressive supporter culture then a lot of places in the world," said Bailey Brown, president of the Independent Supporters Council and former president of the Dallas Beer Guardians.
"When we look worldwide, you see it in a lot of other soccer communities where men are saying whatever they want, they're sexualizing women in the supporter's section. I think having women in leadership and being at the forefront of planning, you cut that out real fast. And when you cut that out, there's a whole different type of welcome into a group, no matter who you are." 
Brown became involved with Dallas supporter culture after spending time in Germany during the European Championships. She returned to Texas and attended a few FC Dallas matches with a friend before purchasing season tickets in the supporters section for the following season. She threw herself into helping out with matchday activities, and just two years after joining the Dallas Beer Guardians, she was elected as its president, a post she only vacated because she accepted the role of president of the Independent Supporters Council. In her time as a supporter, Brown has seen a growing number of women ascend to leadership positions. 
"When I was first at the ISC Conference back in 2016 in Chicago, I feel like I could have counted the women at the table on one hand, which was crazy," she said. "But now, we had close to 120 people at the ISC Conference last year, and there were at least 30 to 40 of us who were women. So, I think that there's a notion that we're kept out of leadership, but I think that's changing. Because when I look at the roster in ISC, I mean, there are just strong women across the board, leading and getting things done."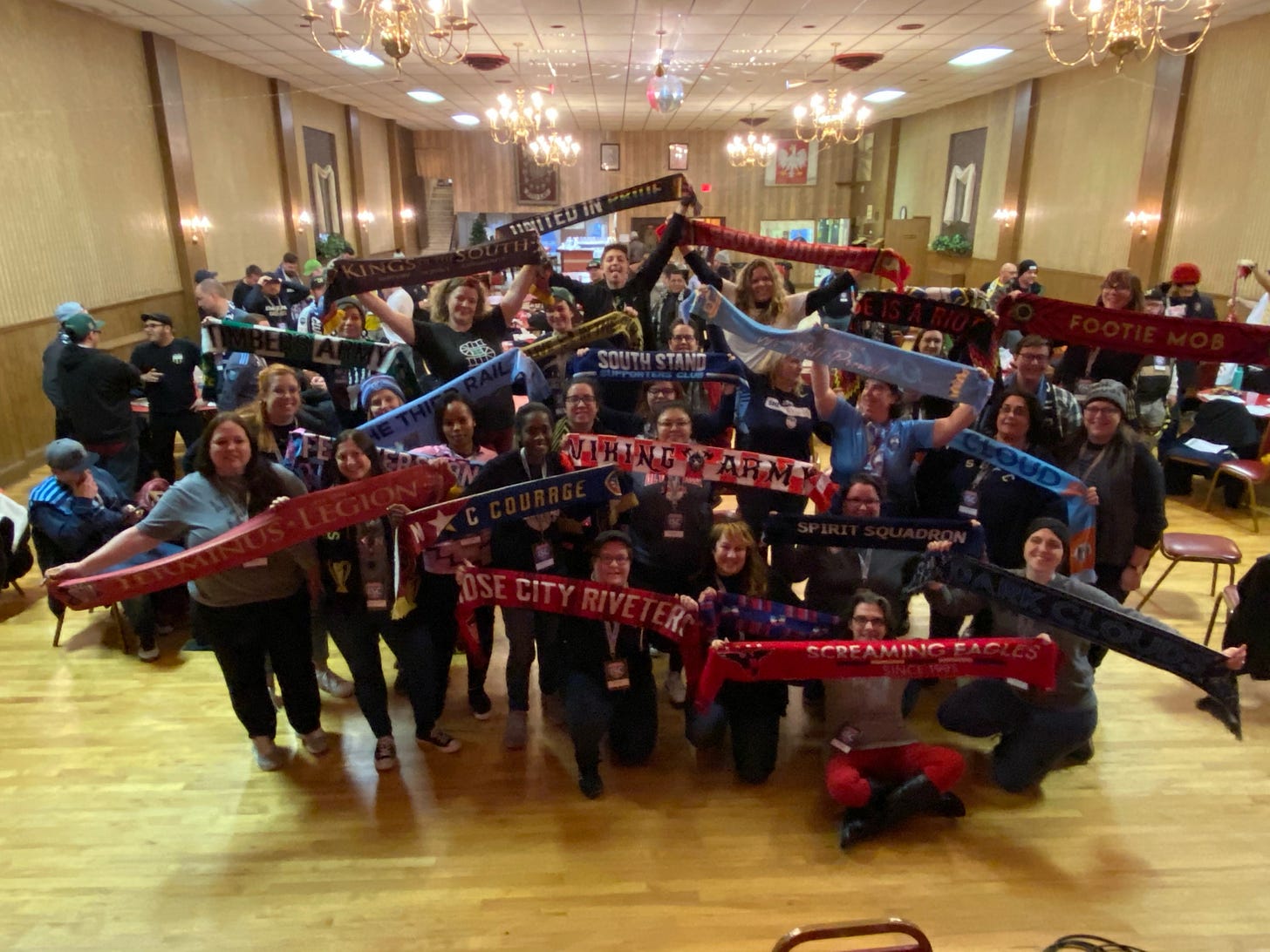 Photo courtesy of Bailey Brown
Same goes for LAFC, where women have been involved since the club's founding. 
"Women have been part of the 3252 since inception," said Mayra Stevenson a member of LAFC supporter group Expo Originals and the treasurer of the 3252, LAFC's Independent Supporters Union. "It wasn't like, a 'Oh yeah, we're just here because our husbands are here.' No, we were HERE."
That involvement from the start, along with the natural synergy of having one of the best women's soccer players of all time in your ownership group, paved the way for several women-focused events, including a Ladies of LAFC Night before the 2018 season, the 2018 Women in Sports Night, and a second Women's Night in 2019. 
"To keep us out of the conversation would be stupid. We take up so much of the North End," said Stevenson. "If you look, not just on Women's Night, but on any game day. Look into the stands and you'll see women, on the stands, on the bars, holding their kids on their shoulders. We have to walk the walk, not just say that we're about this. I think we're still working towards being more inclusive, it's not perfect. There's still room for improvement."
The supporters section has been a traditionally male-dominated space around the world, a fact that can make it intimidating for some women interested in dipping their toes into the pool of active support. 
"Soccer supporters culture can be very cliquey," said Meredith Miklasz, a Chicago Fire supporter and one of the founders of The Plastics SG. "So, if you're a woman walking into that space for the first time, it's intimidating."
Gatekeeping also lingers. This can range from questioning someone's intentions for attending the match to quizzing them on players or tactics. 
"If we say we know the sport, we know the sport," said Stevenson. "I have game day group chats with women where we're talking about how the team is playing, just breaking down the game. Sometimes other people may think, 'Oh you just go because there's beer and guys.' No. We're there because we love this team, we love the game, and we know the game."
This roadblock of entering a tailgate or a stadium, and feeling like it wasn't made for you is something that Miklasz and her co-founder Katherine Tucker are trying to combat through their own supporters group, The Plastics SG. 
A former board member for the Chicago Fire supporter group, Section 8, Miklasz grew disillusioned with the group, and after making a quip on Twitter about forming her own SG, Tucker urged her to turn it into a real idea. They created The Plastics, a space for women, LGBTQ and nonbinary soccer fans to connect, express themselves and feel supported. They've been overwhelmed by the support from around the country, and have continued to grow the organization, by connecting with other SGs and partnering with organizations, like their recent jersey collab with Motorik FC & Icarus FC. 
"The whole goal of The Plastics, it's not to have a chapter in every city," Tucker said. "It's to make women and queer supporters feel empowered enough to be like, 'I don't like the status quo of my supporters community, I'm gonna make my own thing.'
"Even for people starting to get more involved in soccer, who don't really quite know if it's for them yet, but they want to try it out," Tucker continued. "That's the basis of the community. We're working with affiliate supporters groups so anytime you're getting into soccer or going on an away day or just trying something new, we want everyone to be able to know where they'll feel safe, where they'll feel accepted and who they can talk to." 
The quest to create that safe environment for everyone transcends leagues. Cloud 9, a supporters group for NWSL club Sky Blue FC found that there were individuals fearful of coming to games alone. 
"We get a lot of people that come alone, or that didn't want to go to games alone. In their friend group they were the only person that liked soccer," said Jen Muller, leader of Cloud 9. "So when you have somebody come in, and then, a month later they're calling you family, that's really something special. Maybe it's because it's new, and we're just starting. We're kind of molding this as we go along. To see people that were a little quiet, that have really come into their own and become a part of shaping what this club is going forward, we take some pride in that."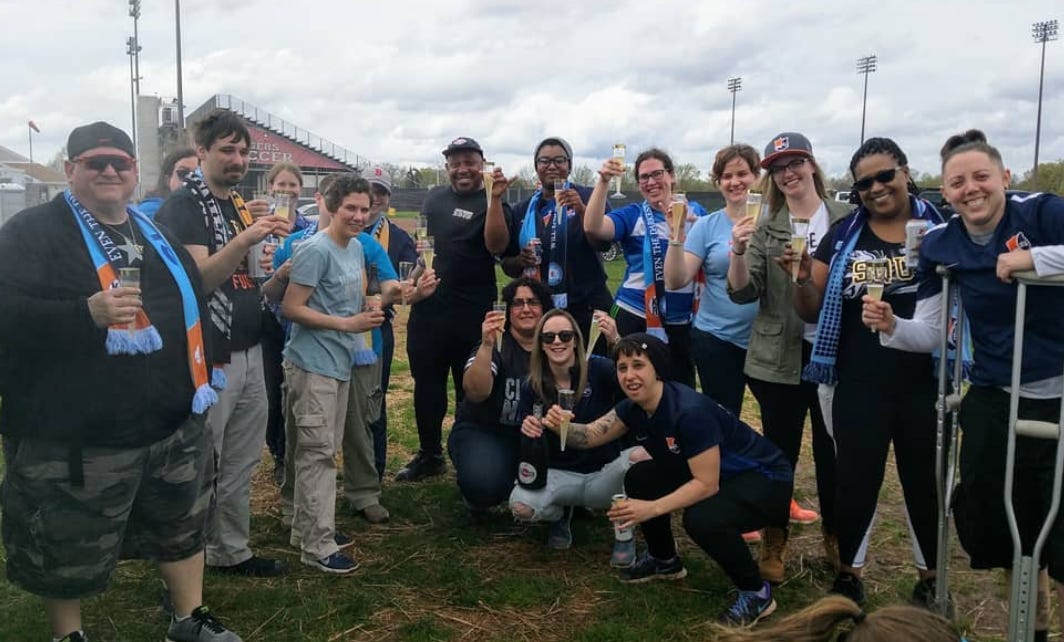 Photo courtesy of Cloud 9
Muller was previously a board member for Empire Supporters Club, a New York Red Bull supporters group, and believes that NWSL SGs create welcoming and inclusive atmospheres a bit more naturally.
"Women in sports have always been marginalized," she said. "So, we're coming in as marginalized people to begin with. We have women of color, people from the LGBTQ community. So everyone coming in has been used to being, kind of kicked to the curb in terms of sports fandom. So when you're coming in like that, I think you're inherently inclusive, because you know what it's like to be on the outside. You know what it's like to think that you don't belong here."
Even as positive steps are taken across all leagues, there is still so much more to improve, from high level advancements of visibility and empowerment, to more actionable moves, including urging more women to join executive boards. 
"One thing that we talk about when we talk to other SGs is that, when it comes time for your elections, you need to talk to women and tell them to run," said Tucker.
"I think the more diverse you start to see the supporter culture landscape, I think their boards start reflecting the demographics of those that they lead. For sure in Dallas, I feel that way because when I was on the board, we were about a 50/50 split gender-wise on the board," Brown said. 
"You have to see people that are like yourself in leadership positions in order to feel welcome, I think," said Muller. "There's that, 'If you can't see it, you can't be it' kind of thing. Having diversity in your leadership shows the diversity you have in the membership itself and saying, 'Okay, you're welcome here.' I think if it's out in front, it's more welcoming. That's an area we definitely need to work on as a club."
There's one area where numbers are less impressive, the capo stand. As the vocal leaders of the supporters section, the capos are the most visible, and most powerful individuals in any supporters group on match day, leading chants and controlling the pace, tempo and energy of hundreds and sometimes thousands of fans.
As the lead capo of Northern Guard Supporters, Carline cut her own path to the stand. Already heavily involved with NGS for several years, she didn't have specific intentions of becoming a capo. But she DID begin to bring a megaphone to matches to  better heckle the opponent and support DCFC players. 
"So one day, Drew [Gentry, NGS's lead capo] was like, 'You already have a megaphone, do you want to just go up on a stand?' and I was like, 'Yeah, sure.'"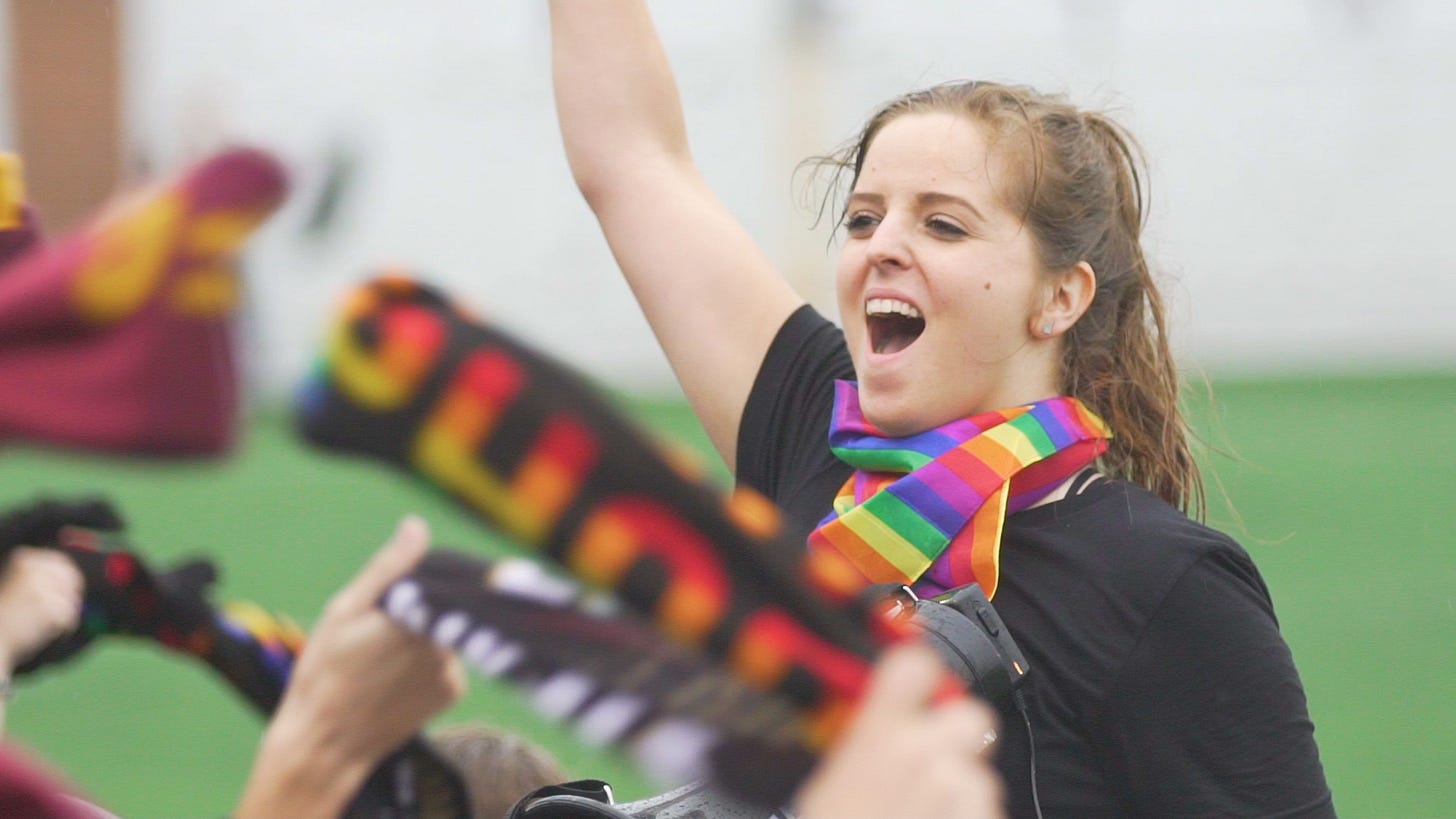 At the time, she was juggling several other Northern Guard roles including helping out with the merch stand, coordinating traveling support and assisting with the website, along with occasionally capo-ing. However, capo-ing soon stood out as the thing that meant the most to her. 
"I really really enjoyed capo-ing and was really appreciated, because I got a lot of people saying how great it was to have a woman on the stand."
When Gentry stepped down as lead capo, the Northern Guard founders approached Carline and another individual about taking on a joint-lead capo role, in order to split the tremendous amount of work between two people. They both agreed, but the other individual soon stepped down, leaving Carline to assume the position herself. 
For Carline, the most rewarding thing has been seeing young girls or other women take the stand and find their voice. 
"We have two high school girls who would stand in the section, and stand right by me. Now both of them go up on the [capo] stands during matches. I'll look over my right shoulder, and there's Casey on a stand, screaming so loud. She's louder than any other capo around. I'm like, that's what this is about, you know? She screamed, and they listen. When else does that happen?"
There's an innate sense in most women involved in sports to recognize in others the fire that's burning in their own hearts, and be fueled by it. Sometimes it's the only way to survive, when each day continues to bring criticism, disappointment and injustice for women, in sports, and the world at large. 
But the support helps. The connections help. It fuels the fire. As more and more women fall in love with supporter culture, and create their own spaces within it, those fires will only burn brighter. 
"The future of this sport will never be 100% male-centric," said Carline. "There are so many young women that are growing up playing this sport and growing with this sport. It's on this trajectory. I find so much love and appreciation in supporting my club, and I want other people to experience that. And this is the only way I know how to show my love and support: loud and unapologetic and in your face."
"We always felt so alone, and a lot of other people felt alone too. But now, it's like, everyone feels less alone," said Miklasz. "And it's like, 'Okay, well maybe I don't fit in with supporters in my city, but now I have friends from all over through the Plastics. We empower each other, we uplift each other and we support each other."