#SavedTheCrew Turns 2
On fighting the good fights
Hello, and welcome to American Tifo, a weekly newsletter for, and about, North American soccer supporters.  Thank you for being here. If you like what you're reading, subscribe!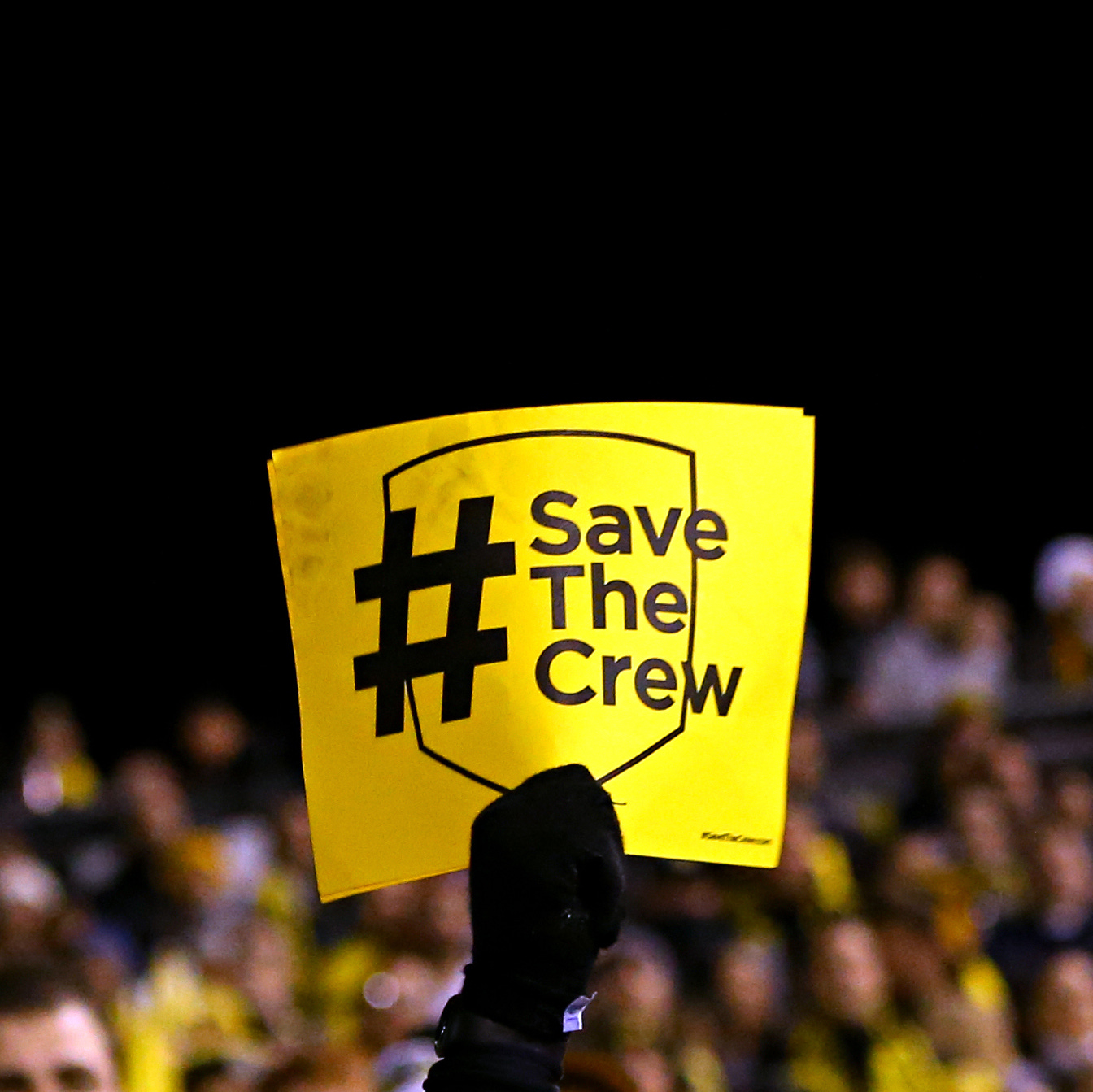 Jo Rodgers had a standing agreement with her friend from the leadership group of Save The Crew. He didn't have to read her into any of the high-level conversations that were happening. But once it happened, once the Crew was saved, he needed to give her the heads up as early as possible. The code? Meet him at Endeavor Brewing, the bar that had been a frequent meeting place for the group. Rodgers got the text the morning of October 12th, 2018.
"Today would be a good day to head to the bar."
That day quickly became a "Where were you when…" day for soccer fans in Columbus, Ohio, who had just pulled off one of the greatest supporter-driven resistance movements in American sports. 
Saved The Crew celebrated its two-year anniversary earlier this month, allowing Crew supporters to look back on a transformative time and savor a future that very much still involves the Crew in Columbus. 
It started with a tweet. On October 16th, 2017, journalist Grant Wahl reported that Columbus Crew owner Anthony Precourt would move the Crew to Austin, Texas if a new downtown stadium deal could not be reached. 
"I've likened that to kind of like in a war movie, where a bomb goes off in the general vicinity of the main character, and everything goes black for a moment," said Morgan Hughes, spokesperson for the Save The Crew. "The camera comes back slowly into focus, and you just see a bunch of people running around, you can't hear anything yet, and as you slowly get your bearings, you're like, 'What the hell just happened?' That was the first 18 hours."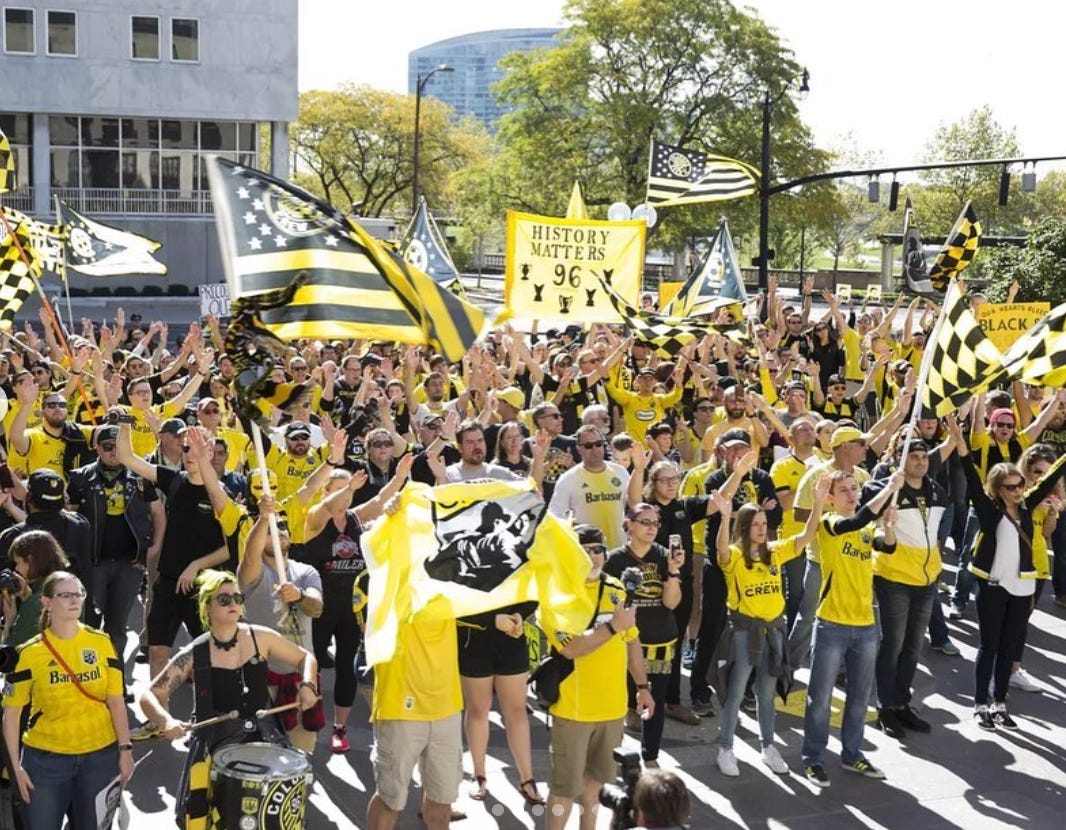 That Sunday, October 22nd, thousands turned out for a rally on the steps of Columbus City Hall. But then the real work began.
Here's one of the not-so-secret secrets about why Save The Crew was successful. To outsiders, a supporters group is just a bunch of crazies that jump around and drink beer and yell (which, true.) But it's also one the most organized, meticulous, hard-working, committed groups you've ever seen. It's a group of individuals, pulled from different industries, with unique skills and strengths, brought together for a common purpose. So when it came time to do the actual stuff that saving a professional soccer team required, like crafting a message, dealing with logistics, organizing outreach and coordinating with businesses and lawmakers, a supporters group is exactly who you want attacking that beast. 
"One of the reasons that I personally felt like we could do this is because of tifo projects," said Hughes. Hughes, and several other Crew supporters first started making tifos around the USMNT's match against Mexico in 2013, held in Columbus, and would go on to create several more for the Crew. 
"We figured out how to make giant art, and not just one, multiple pieces," Hughes said. "We sucked at it, but we got better and stayed together. It was kind of a crucible that breaks apart any belief that you may be caked in, that you're not good enough, you can't do the impossible." 
What followed over the next 12 months was an unprecedented display of community organization across all sectors of a city. It also drew in people like Rodgers, who had no previous link to diehard Crew supporters.
Rodgers and her husband attended Crew matches for years, enjoying the diversion from their hectic lives, but were unable to engage in any sort of community. "We kept saying, 'Huh, gosh, we wish we had soccer friends, but we just don't know anybody who likes it.'" 
During the early days of Save The Crew , Rodgers, who works as a customer service and logistics manager, reached out to one of the movement's leaders suggesting that they target businesses rather than individuals to hang #SaveTheCrew banners in order to achieve the most community impact. 
"He said, 'That's a good idea. Would you like to coordinate that?'" Rodgers said. "From there, I just started working with the business group and the government group and got really involved in the community outreach and I've stayed involved ever since."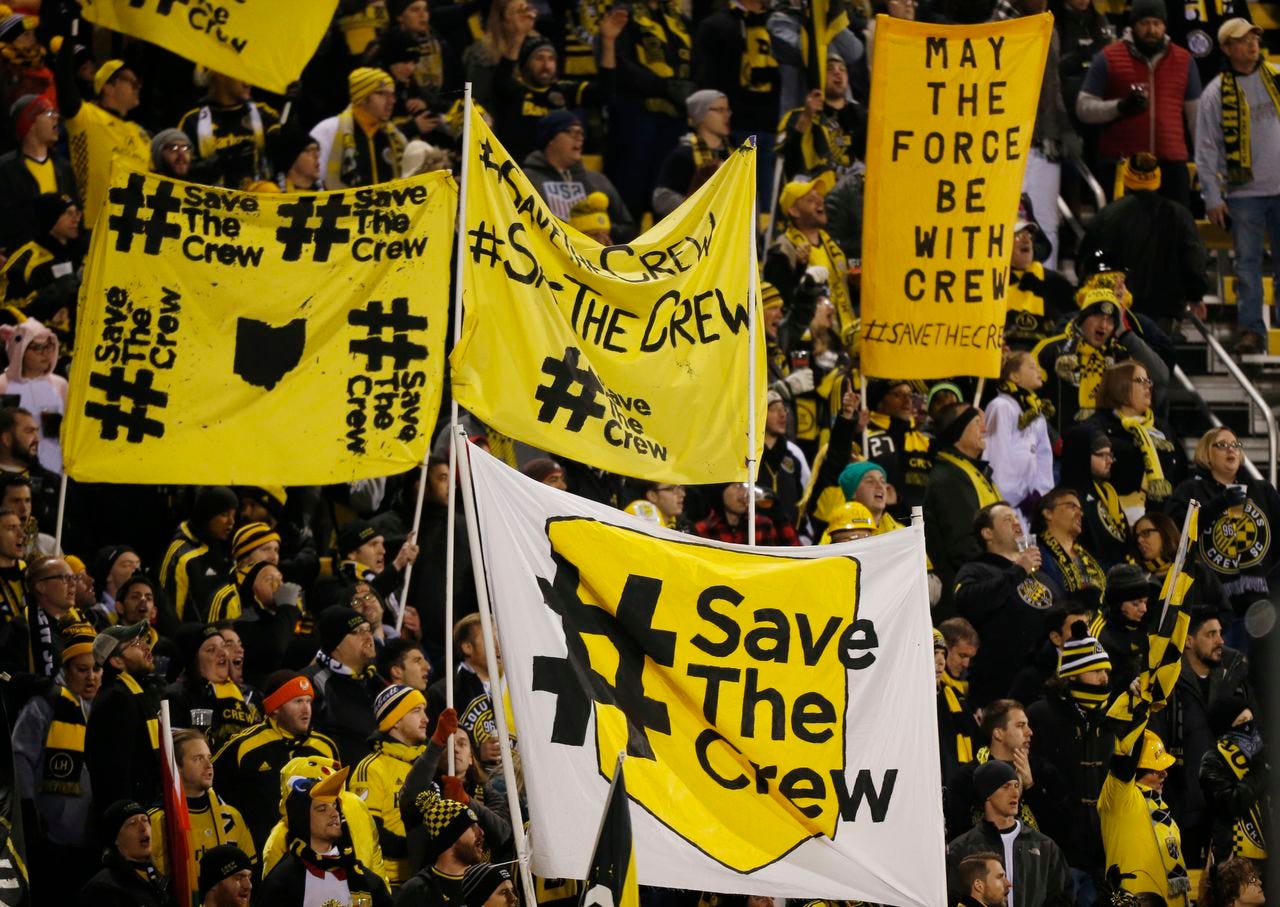 From engaging with almost 400 local businesses to working with lawmakers, and ensuring that their messages stayed fresh but focused, Save The Crew was everywhere in Columbus that year. 
"You had a hard time going out to dinner or a bar, or even too many shops and not seeing the window clings as you walked in the door," Rodgers said. "The government was constantly working on it. Hardly a week went by where one municipality or the state or the county was issuing some sort of proclamation or stating their support. So, it was just constantly hitting you from all sides."
The work was constant, as Hughes, Rodgers and others worked tirelessly for months and months, steadfast in their belief that they could achieve their goal. 
"There were times when something positive would happen in Austin. You'd think, 'Oh my gosh. Are we going to pull this off?'" said Rodgers. "Or, something didn't go our way, and you'd think, 'Oh man, is this not possible? We all had moments of doubt here and there, but we were just hell-bent on making it happen." 
And then, October 12th, 2018. After a year of uncertainty, the news broke that Cleveland Brown owners Jimmy and Dee Haslam and longtime Crew team physician Dr. Pete Edwards, were poised to buy the team from Precourt, in a solution that also allowed Precourt to have his team in Austin. The Crew had been saved. 
As Rodgers looked down at her phone that morning, at the secret code confirming that they had done the seemingly impossible, her only reaction was, 'Should I go now, or wait a little while?' She waited about a half hour before packing up her things and leaving her office for the day. 
Walking into Endeavor, Hughes was the first person Rodgers saw. "Morgan's not a touchy guy, but when I saw him that day, Morgan walked straight up to me and gave me the biggest hug. That's when I knew for sure that this was 100%. We spent the rest of the day there, and it was just the most fun day." 
That season ended with the Crew being eliminated in the Eastern Conference semifinals, but that loss landed a little softer than previous seasons. 
"I was sitting with a buddy of mine and the final whistle blew and we kind of hugged and smiled and we were like, 'Hey, you know, it's the end of the season, but it's not the end of the team," Hughes said. 
Next up for Hughes is garnering more excitement for the Crew's new downtown stadium, which will debut next summer. 
"We have a monumental undertaking in taking this thing that we've cultivated in the Nordecke and in Crew Stadium and taking it downtown," Hughes said. "It is vital and necessary that we put forward a welcoming environment for those who have yet to arrive. I mean, we're going to have the second biggest supporters section in the league here shortly, and we're going to have to fill it, and we're going to have to do things that make people want to join it. That's not small undertaking, but I think we're primed and focused and ready for that challenge."
There are parts of Save The Crew that some supporters miss. Such focused, streamlined unity, channeled directly at one target creates a heady tonic. It's the type of buzzy energy that can't sustain itself outside of extraordinary circumstances. 
"You don't get to be a part of something like that very often where it's so positive, so unified and just such a great experience all around," said Rodgers.
For Rodgers, the experience was a gateway into even more involvement with the Nordecke, the umbrella organization for Crew supporters groups. She now acts as the Nordecke's outreach coordinator, trying to keep the core essence of what made Save The Crew so special alive. 
"Columbus is important to us, and we are important to Columbus," she said. "We are all one big community whether you love soccer or not, and we want to give back to the community that helped save the team that we love. For me, Save The Crew goes on every single day, it's just under a different name. But that passion and that excitement still lives on."
Anthony Precourt's big mistake in all of this is that he told the wrong story. He told the story of a city that could not and did not want to have a soccer team. So Save The Crew told their own story, about how a community can rally together against unlikely odds, and protect what they hold dear.
And they continue to tell their story.
October 12th of this year brought a flood of tweets from fans sharing their Saved The Crew Day moments, creating an opportunity to remember what it was like to share foamy pitchers of beer with strangers, and honor the fact that, as brutal as the world is at this moment, beautiful things have happened, and will happen again.
"I hope that, in the most accurate retelling of Save The Crew, that this is just a story of a community that decided that they were going to change the world around them," said Hughes. "Should any group of people decide to do that, so long as they do it together, and they decide that they won't stop until they accomplish their goal, Save The Crew will prove to be just a first chapter in hopefully a never-ending book of power to the people."