The Curse Is Changing How You Think About New Mexico
People first, supporters second
Hello, and welcome to American Tifo, a weekly newsletter for, and about, North American soccer supporters.  Thank you for being here. If you like what we're doing here, subscribe! Share with your friends!
When you think about New Mexico….. Well, wait. Do you think about New Mexico? Have you ever thought about New Mexico? Beyond where Breaking Bad was set, or just kind of as a vague blurry picture of a desert, located somewhere in the lower left quadrant of the U.S. map? 
If you haven't thought about New Mexico then you definitely haven't thought about soccer supporters in New Mexico. 
But, New Mexico United's supporter group, The Curse, is trying to change that. Through an authentic New Mexican style, its members are trying to break through stereotypes and shine a positive light on the state and what it stands for.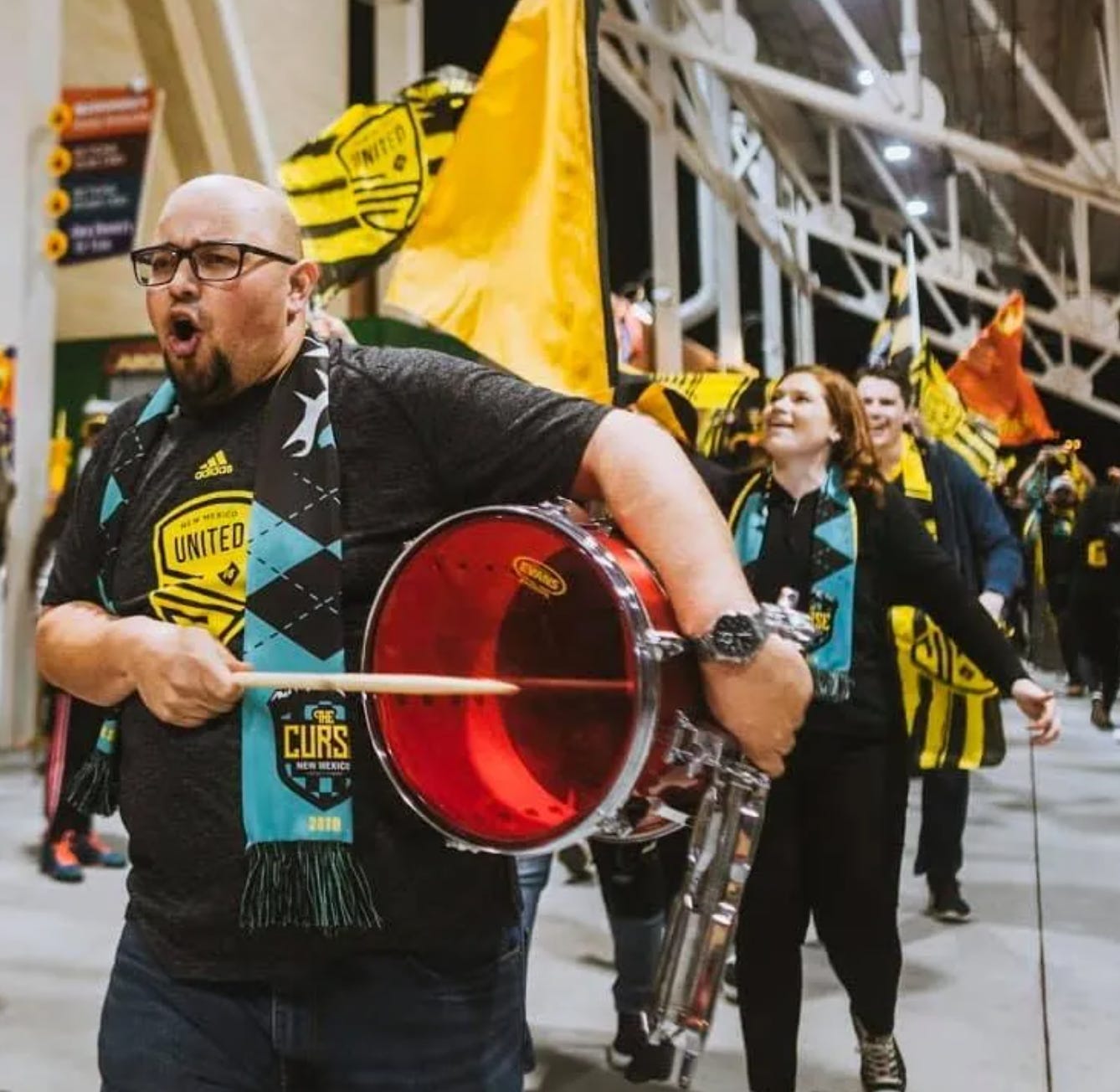 Photo courtesy of The Curse
To be from New Mexico means to be marginalized.  
"Growing up, I felt pretty irrelevant in the big scheme of things, nationally," said Elaine Briseño, a member of The Curse, and a New Mexico native. "Nobody ever talks about us, we were never on the news. I mean, some people don't even know we're in the country."
"We're a state of people who are always told that we're not good enough for something, or we don't deserve this or that" said RJ Montaño, co-founder and president of the Curse.  "You're at the bottom of every good list and the top of every bad list. We see and hear that all the time."
So when news broke that New Mexico would be home to a USL Championship team starting in 2019, supporters knew that they wanted their club and their supporters group to be about everything that the traditional stereotypes around New Mexico were not, and represent everything about New Mexico that they knew to be true.
"The people within our state are individuals and they want to be seen as individuals," said Aaron Reeder, a member of the Curse. "When you're brought up to be marginalized in so many different ways, The Curse, from its inception, really wanted to push back against that need to want to marginalize people in our state."
The name refers to a well-known quote about the state from former New Mexico governor and Civil War hero Lew Wallace, who wrote to his wife in 1881:
"All calculations based on our experiences elsewhere fail in New Mexico."
It would go on to be known as The Curse of Lew Wallace.
"It was kind of like, the curse is on New Mexico. Anything that works everywhere else, it doesn't work here," said Montaño. "We kind of flipped that saying, 'You're right, everything that works where you're from doesn't work here. This is our home." 
The Curse took what used to be an insult and turned it into a rallying cry to transcend age-old notions about their state. 
"This is our way of turning that on its head, and saying, 'No, we are better than that, we are going to be better than that, and putting our money where our mouth is," Montaño said. "We're proving that just because that's what's been, it doesn't mean that's what we have to be."
With no real roadmap beyond representing New Mexico as authentically as possible, The Curse found its identity in the places it knows best, its own communities.
"We just made it our own thing," Montaño said "I think that's what's helped us here, that we are from the community. People from New Mexico are doing this and it feels natural. People feel  like they have a part in this." 
"The first time I went, I went by myself to a tailgate, and they were just so welcoming," said Briseño. "They've created this environment where you didn't really need to know anyone but you could hang out with them."
That environment worked, attracting waves of New Mexicans eager for something to call their own. New Mexico United led the league in average and overall attendance in 2019, packing their home stadium with an average of more than 12,600 every match. 
"We thought that if we had 50 Curse members by the end of the first five years, we were doing something good, that's going to be something positive, and we ended up having over 550 member after the first year," said Montaño.
According to Montaño the experience of a Curse tailgate, and a match in sections 116 and 118 of Isotopes Park, is authentically New Mexican. And it's a party. 
"They're huge events, it's a big fiesta. People come out and there's free food everywhere. You can't walk through the tailgate without people offering you green chili cheeseburgers or Frito pies."
"There's this idea of hospitality that runs deep with New Mexicans," Briseño said. "If you come [to the tailgate] we want you to eat, we're going to feed you, here's a beer, come meet some other people. There's going to be games and music. We're going to make sure you have fun."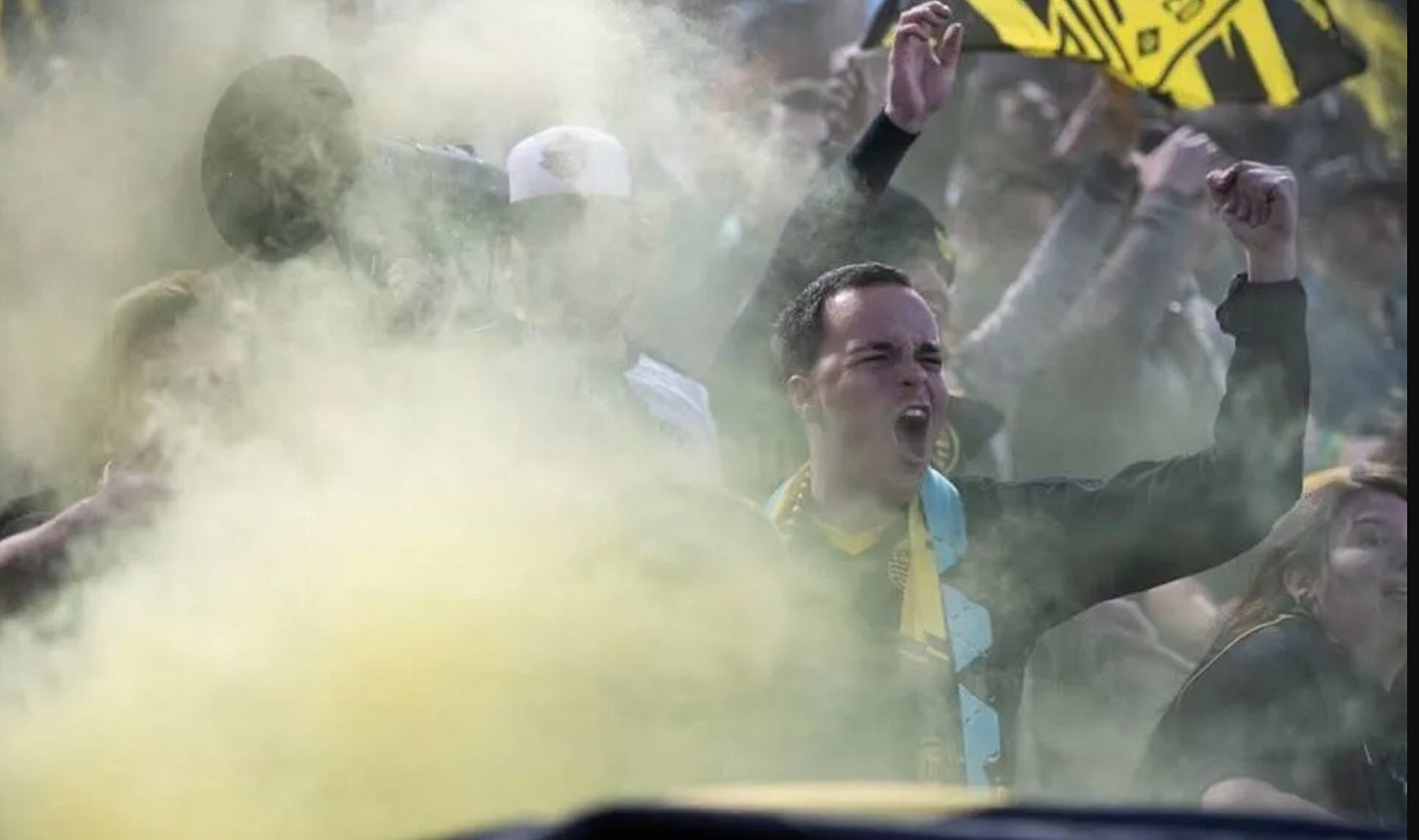 Photo courtesy of The Curse
Maybe it's because it's New Mexico. (You know, New Mexico. The place you've been thinking about for at least as long as it's taken you to get to this part of the story.) Maybe because it's New Mexico, the place where it's so easy to feel overlooked, that when two incidents erupted around an unrelated USL Championship team more than 800 miles away, reeking of the injustice and marginalization that is common in New Mexico, members of The Curse decided to act. 
In San Diego Loyals' September 23rd match against LA Galaxy II, midfielder Elijah Martin was racially abused. One week later, in a match against Phoenix Rising, Loyal player Collin Martin, the only out male player in American pro team sports, was called a homophobic slur. The club forfeited their match against Galaxy II and walked off the field during the match against Phoenix, giving up a shot at the playoffs.  
As the Phoenix incident spread around Soccer Twitter, Reeder felt compelled to organize a response. 
"There are certain things that we feel, as Curse members, we can step outside of [supporter] boundaries if we need to, in order to support another SG, or another club that's dealing with adversity in a way that's probably familiar to a lot of people in New Mexico. We said, 'Let's be supportive of another club that's dealing with something they shouldn't have to deal with.'"
Reeder and other Curse members wanted to put together something quick and in-the-moment, which still expressed the basic sentiments of support. They landed on a video compilation of Curse members sending messages of solidarity to the Loyal and their supporters group, The Locals. 
"I think it was important for us, as Curse members, not to be angry at Phoenix for what happened, and not be angry with LA Galaxy II," Reeder said.  "It was more like, how can we actually show support for the people who were affected by this, not just show that we are also angry at the people we should be angry at."
The process was fast, and for a few days, Reeder's inbox was overflowing with video clips. "It was super DIY, super in the moment, which was perfect," he said. 
The video was posted across the Curse's social channels, and the reaction was positive and emotional, with several members of the Locals responding with how moved they were by the gesture. 
"Our hope is that the message comes across that we need to stand with the people we should stand with over issues like this, and at the same time, try to show other supporters that anyone can do something like this. It doesn't take long," Reeder said.
New Mexico United won its first playoff game in club history last week, and will try to advance even further into the playoffs this weekend when they take on El Paso Locomotive. But beyond the pitch, The Curse hope to continue to rep New Mexico as a state full of passionate supporters and empathetic people. 
"We're all people first and then we're supporters second," said Reeder. "I'm super pumped to be a Curse member. We are, in my opinion, one of the best supporters groups in the country, and that's only because of these opportunities that we have to be better humans."